Homeward Bound For Homeless

By
.(JavaScript must be enabled to view this email address)
Wednesday - December 15, 2010
|
Share

Del.icio.us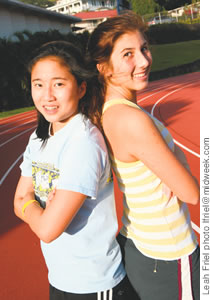 Tama Fukuyama and Maya Grossman
Tama Fukuyama and Maya Grossman are the type of friends who complement each other, like ice cream and cake. I spent a little time with them on the Punahou campus and noticed a few things. Fukuyama appears to be the shy, quiet one. Grossman is more assertive, verbal. But although they're opposites in a few outward characteristics they have some really important traits in common: brains, determination, ambition, heart and one more thing - they love to run. Last year these two high school students came up with a plan to put their shared interests to good use - a fundraiser, a 5K run/walk to benefit Hawaii's homeless. Like all great accomplishments, it started with an idea.
Grossman: "One day we went running midday and we stopped at a stoplight, and while we were waiting for it to change, Tama, kind of like random, just said, 'Hey, would you ever want to put on a race?'And I was like yeah, that would be fun!"
Since they had no clue how to go about it, they did what budding philanthropists do in the Internet age: They Googled it. Sure enough, they found a web-site that told how to do it, step by step.
Fukuyama: "We didn't actually know what we were doing. We learned it would take months of planning. The website outlined how to start and what steps to take."
Step No. 1? "Choosing a cause." Fukuyama had volunteered at the Institute for Human Services and remembered her experiences. They agreed. This was it.
Grossman: "I guess the race really began to take on a life of its own when Tama came up with the name Homeward Bound."
Fukuyama: "I thought it would be appropriate."
Homeward Bound was a huge success, raising an amazing $15,000 for IHS. Now these two teenagers are ready to do it again.
Kate Bepko, community relations manager for IHS, says they are "so grateful for it. The money goes to things like keeping the shelter running each day. It goes toward the 634 meals we serve each day, it goes to the electric bill, to basic maintenance of the building. Basically it goes to keeping the shelter up and running."
IHS has come a long way since 1978 when the Rev. Claude du Teil began passing out coffee and peanut butter sandwiches on a downtown street corner. His creation, dubbed the "Peanut Butter Ministry," ultimately became the emergency homeless shelter IHS. Today, its mission to house the homeless remains unchanged, but IHS has expanded its reach and capabilities. It has two shelters now, one for men and the other for women, families with children, and couples.
Bepko says their mission is no longer limited to providing emergency shelter. They also reach out to transform lives. They have come to believe prevention is just as important as shelter to tackling homelessness in Hawaii. Working with at-risk people before they lose their homes is key.
Fukuyama and Grossman are hoping to be part of that solution by putting on an even bigger race this year. They're doing that by reaching out to Oahu schools.
Grossman: "One of our title sponsors, Lex Brodie's, is donating $1,000 to our cause to host a school challenge."
Lex Brodie's Tire Company Foundation will give the school with the most runners/walkers (with a minimum of 30 participants) $500. The second-place school receives $200 and three more schools will receive $100 each.
Last year there were 365 participants. Grossman and Fukuyama are hoping for at least 400 this time around.
Even if you can't participate you can still help IHS. Bepko says they are always taking donations of clothing and toiletries "especially this time of year we really need help with toiletries. It sounds like something that's so small, but our guests at IHS don't have their own toiletries - things like shampoo, conditioner, disposable razors, soap. Things we always need. We don't have a budget for toiletries and we rely completely on donations."
The race is this Sunday, Dec. 19, at Manoa Valley District Park. To make a donation, become a sponsor of Homeward Bound 5K or to register to run, visit ihshawaii.org.
Most Recent Comment(s):