Addressing Abuse
By Kata Issari
Wednesday - January 11, 2012
Share

By Kata Issari, Hawaii Regional Director, Joyful Heart Foundation
When Mariska Hargitay began playing Detective Olivia Benson on Law & Order: Special Victims Unit more than a decade ago, the content of the scripts opened her eyes to the epidemic of sexual assault, domestic violence and child abuse.
But what really opened her eyes and subsequently, her heart were the thousands of letters she received from survivors disclosing their stories of abuse. The letters came from across the United States, all of them displaying pain and isolation but also courage.
These stories inspired Mariska to develop the concept for the Joyful Heart Foundation while in Hawaii. It was here in the Islands that she decided to create a space for survivors to heal in a holistic way, and in so doing, to reclaim their lives.
Today the Joyful Heart Foundation works both locally and nationally to fulfill our mission to heal, educate and empower survivors of sexual assault, domestic violence and child abuse, and to shed light into the darkness that surrounds these issues.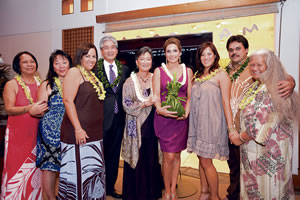 Joyful Heart founder Mariska Hargitay (fourth from right) with members of the organization's Hawaii advisory board. Photo courtesy Joyful Heart Foundation
Joyful Heart works to foster a community that addresses sexual assault, domestic violence and child abuse because these issues deeply affect us all. In Hawaii, one in seven women is raped and up to 50,000 women a year experience domestic violence. In 2010 alone, Hawaii's Child Welfare Services received 4,199 reports of child abuse.
Our goal is to engage the wider community to do something about these alarming statistics. To date, we have invested more than $3 million in our Hawaii programs, directly serving more than 3,000 individuals. And our work continues to grow through new efforts such as our partnership with the Hawaii Children's Trust Fund on the One Strong 'Ohana campaign. This campaign shows that we can all play a part in preventing child abuse. Recent studies have shown that parents with a strong support network are less likely to abuse and neglect their children. And we can all reach out to parents we know, even in simple ways, to strengthen our connections and help prevent child abuse.
To learn more about Joyful Heart's work or to sign up for more information, please visit joyfulheartfoundation.org or email .(JavaScript must be enabled to view this email address).
Hawaii charitable organizations may send requests for space in either Proof Positive or the free advertisement below to dchapman@midweek.com.
Most Recent Comment(s):