Supporting Shriners Hospital
By Dorina Badget
Wednesday - January 25, 2012
Share

By Dorina Badget, High Priestess,
LOSNA Hawaii Court No. 60
The Ladies' Oriental Shrine of North America (LOSNA) is an international nonprofit organization that is committed to supporting the children of Shriners Hospitals for Children network. Hawaii Court No. 60 is the local entity of LOSNA. I am currently serving as our High Priestess. Hawaii Court No. 60, instituted March 27, 1952, has dedicated its work all on a voluntary basis to support Shriners Hospitals for 58 years.
At the international level, LOSNA members contribute more than a half-million dollars to Shriners Hospitals each year.
Our court has continued to provide financial support through donations to the network of Shiners Hospitals.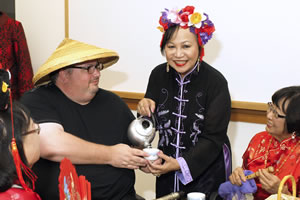 (From left): John Reed of Shriners Hospital and Lynda Baniqued and Miriam Fortuno of LOSNA rehearse for the Murder Mystery Party. Photo courtesy Red Monkey International
These funds support research through the Grand Council of LOSNA. In addition, the ladies are devoted to giving their time to help at the Recreation Therapy Department of the local Shriners Hospital. We host annual Easter and Halloween parties and monthly bingo games for the children.
Since 2009, the ladies of Hawaii Court No. 60 have hosted a Murder Mystery Party as a fundraising event. Funds benefit the Shriners Hospital Transportation Fund, research projects, events for keiki, and food donations to patients and their families.
This year's Murder Mystery Party, "Who Killed Madame Wong?" takes place Friday at Hee Hing Restaurant, located at 449 Kapahulu Ave. The event features a seven-course Chinese dinner, entertainment, a silent auction featuring a trip to Las Vegas from Vacations Hawaii, and the Chinese lion dance to ring in the Year of the Dragon.
Proceeds will benefit Shiners Hospital in Honolulu. Doors open at 5 p.m. Tickets cost $45 per person. To purchase tickets or for more information, contact Stella Carter at 230-8328 or .(JavaScript must be enabled to view this email address).
Hawaii charitable organizations may send requests for space in either Proof Positive or the free advertisement below to dchapman@midweek.com.
Most Recent Comment(s):