A Sommelier's Role Is To Put The Guest First

By
.(JavaScript must be enabled to view this email address)
Wednesday - January 05, 2011
|
Share

Del.icio.us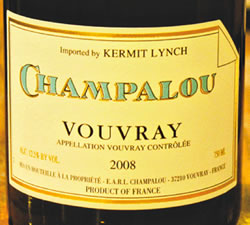 A light and crisp flavor that keeps going
A friend of mine once told me that he doesn't need a sommelier to recommend buying a Grand Cru Burgundy or to steer him toward a first-growth Bordeaux. Those have their own reputations built on stellar wines made over many years. Those wines are always expensive, and it doesn't take a genius to know that those are great wines.
Which got me thinking: What is the real function of a sommelier?
First and foremost, a sommelier should be professional and courteous. Like anyone who works in a restaurant, they should be welcoming and look forward to serving their guests. I think that philosophy is lost on many people who work in the restaurant industry today. Those who do it well excel. But those who don't lose clients without even knowing it. I can't stand bad service.
A sommelier should never be snobby. I've had some horrible experiences with sommeliers who tried to steer me away from having what I wanted. Why would you do that? The only reason I can think of is that the sommelier is trying to push something else out of his cellar because he has a lot of it or will be spiffed on selling it. I understand if the wine would truly be a horrible match with the food, but this sommelier was recommending something within the same category.
A sommelier should treat guests to an experience they have never had before. That can come in the form of a great food and wine pairing or turning the customer on to something they may never have heard of before and truly enjoy. It may be less expensive than what the customer was willing to pay, which is always a plus. But if the wine costs slightly more than the customer was willing to pay, as long as the guest really enjoys it and finds the extra value in it, it is definitely worth it.
An unoaked Chardonnay with superb tropical fruit
A sommelier should be confident but never condescending. He or she should know more than the guests but doesn't have to prove it. So you've had more vintages of "Chateau X" than almost any other person on earth. Does that make you a better person? Holding your knowledge over someone as some type of royal scepter is callous and a mark of ill character, in my book.
Of course, a sommelier should be able to present and serve wine properly. This art can be lost on some, but if one is lacking, it can be most awkward and can ruin a guest's experience. Some sommeliers have a style and elegance that can practically mesmerize guests. And there are also those who can be heavy-handed and brutish.
What is most important is the guest's experience and how the sommelier can enhance it.
Sommeliers should always put the guest first even before the wine and themselves. After all, without the guests they would-n't have a job.
Recommendations: 2009 Domaine Champalou Vouvray ($17) I don't remember this wine ever being this good. This vintage is very special. It has notes of honey, sweet pears and melons with a light and crisp flavor that keeps going. 2009 Mer Soleil 'Silver'Chardonnay ($28) This unoaked Chardonnay has superb tropical fruit with a roundness on the palate that is utterly enjoyable. You would think it sweet because of all the ripe fruit in there, but it still finishes dry.
Roberto Viernes is a master sommelier. E-mail
.(JavaScript must be enabled to view this email address)
Most Recent Comment(s):