Enjoying The Textural Feel Of Wine

By
.(JavaScript must be enabled to view this email address)
Wednesday - March 18, 2009
|
Share

Del.icio.us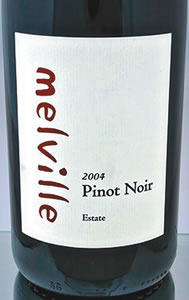 Melville Estate Pinot Noir: rich
Viscosity is a word that you might associate more with an automotive journal than a wine column, but for one moment I would like to delve into what it means. I do many tastings and often get that crumpled forehead or "deer in the headlights" look from my guests. What does it mean to you?
In wine speak, it is the same as motor oil. The viscosity of the wine is its inherent weight and texture, or its resistance to motion and/or friction. On the lightest end of the viscosity spectrum is water. The opposite heavy end of the spectrum is molasses. In a glass, you will see that water falls off the inside of the glass very quickly. Have you heard the expression "watching molasses run"?
That's really slow. If you don't know what molasses is, think honey. It takes a long time for honey to drop from the spoon doesn't it?
So what makes viscosity in wine? A wine's viscosity comes primarily from the amount of alcohol in it. Thus a higher alcohol wine normally has a thicker viscosity and weight: think Port (20 percent) or Sherry (17 percent to 20 percent). A wine with lower alcohol like a German Riesling (7 percent-11 percent) or Moscato d'Asti (5 percent-7 percent) is always lower in viscosity. Other components that can contribute to a wine's viscosity are sugar and tannin. Wines with a tremendous amount of sugar like Sauternes or Ice Wines can be thick and syrupy. Tannin from grape skins as well as oak will certainly give a wine a thicker texture and can amplify the viscosity of the wine.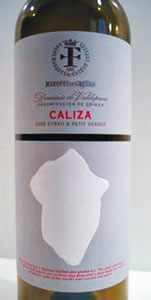 Marques de Grinon Caliza Spain: great with steak
Viscosity translates into body and weight for a wine. Why is this important? Well it's actually not that important, but it is a matter of taste. Some people enjoy heavier, thicker wines that sit on or coat the palate more. Think of Zinfandels, Australian Shiraz and Napa Valley Cabernet Sauvignon. Others enjoy lighter wines that are not so burdensome like Sauvignon Blanc, Pinot Grigio or Chenin Blanc.
One thing the body or viscosity of a wine will certainly determine on the table is its food compatibility. Generally speaking, wines that have higher viscosity and are thick and heavy need a suitably rich, thick, protein- or fat-filled dish to pair with. Let's say you pair a Zinfandel with a steamed fish. The fish is already dead, my friend, you don't have to kill it again with a big, burly wine. High viscosity wines need things like grilled steaks, fatty roasts or kau yuk. Save the lighter foods for lighter wines.
Pair a Sauvignon Blanc with shellfish, Riesling with the steamed fish done Chinese style with soy sauce, ginger and scallions. Now I'm getting hungry.
Whether the wine is thick or thin, light or heavy, the textural feel of the wine is often something I enjoy. Just how thick or thin is up to you. Just don't let the choice weigh you down. Cheers!
Recommendations: 2007 Melville Estate Pinot Noir ($25) This has terrific amounts of sweet cherry and raspberry flavors with an ample richness that coats the palate with a silky texture and viscosity.
2005 Marques de Grinon Caliza, Spain ($28) This delicious blend of Garnacha, Carinena, Cabernet and Syrah has a bunch of complex flavors. It shows an herb garden of spices with black plum and cassis. Great with a simply grilled steak!
Roberto Viernes is a master sommelier. E-mail
.(JavaScript must be enabled to view this email address)
Most Recent Comment(s):