Your Sommelier's Cool Tour de France

By
.(JavaScript must be enabled to view this email address)
Wednesday - February 04, 2009
|
Share

Del.icio.us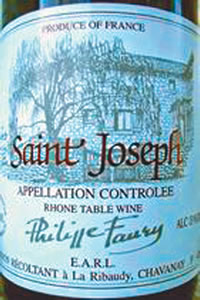 The buy of the Northern Rhone
I've just returned from France after almost a fortnight of tasting the new wines (and many old ones) in the cellars of some of that fair country's finest vignerons. I must say that it was one of the coldest times I've ever been in France, where it reached -17 degrees C overnight in Burgundy! You know it's cold when you are "warming" yourself up in the cellar (which is usually around 13 degrees C). It's a tough job, but someone's got to do it.
Here are my initial impressions of the wines from the major regions I visited:
The Cote d'Or (Burgundy) was the first area of my visit and certainly the coldest. I have a photo of me in the vineyards that are completely covered in frost - a veritable winter wonderland. (Don't worry, the vines are sleeping well through the frost of 2009.) The year 2007 was very kind to this area. I was impressed with the white wines of the Cote de Beaune. The best have very good ripeness, acidity in balance and the vineyard individuality is intact, which make a great combination. This is a vintage for the white Burgundy enthusiast who enjoys well-structured wines that are terroir- vs. fruit-driven. They will be medium- to long-agers, and quite pleasing. Jean-Marc Roulot said they remind him of the 2004s, but a bit more austere. (His 2007s were some of my favorites.) As I liked the 2004s, I would recommend these wines as well.
The reds of the area are better than the 2004s, in my opinion, with good fruit and structure leaving the light weedy and under-ripeness of 2004 behind. It is not as exuberant as the 2005s (few are) but the wines are nice for the medium term.
Beaujolais' 2007s were very good. There was plenty of sunshine, and ripeness levels were very good. The Crus fared especially well, and I loved the wines from Nicole Chanrion (Moulin a Vent) and Chateau Thivin (Moulin a Vent), both of whom made some very memorable wines that are just plain delicious to drink already.
The 2007 Chablis were exceptional. From Petit Chablis all the way to the Grand Crus, I didn't taste anything that was less than delicious. The wines have retained the minerality of the soil with enough ripe fruit to garner attention from non-Chablis drinkers. Roland Lavantureux came out a winner with just his Village Chablis, full of shells and creamy fruit, which you should definitely keep an eye out for. The Grand Crus will repay long cellaring in spades as they will age extremely well.
Syrah Country, aka the Northern Rhone, in 2007 was good to very good. Cornas is more classically earthy than fruity, a vintage for those who enjoy the signature earthiness of the wines and those who are ready to hang on to the wines a few years before they truly start to shine. I found the St. Joseph from Philippe Faury to be the "buy" of the region with great richness and a silky texture that put some of the "greater" appellations to shame.
Provence's 2007s were terrific. One very well-respected winemaker said "these are perhaps the best wines I've ever made." Bandol really stood out with wines full of muscle and sinew wrapped in fine and plush tannins. Unfortunately, there won't be much of them as the area has been suffering from near drought conditions for the past three years and yields were down anywhere between 10 to 40 percent. Domaine Tempier's reds are simply phenomenal! You would do well to acquire some of these.
The Languedoc is another area that shone brightly with its 2007s. The wines, both red and white, are blessed with superb ripeness and balance. As long as the producer did not try to over-extract, the wines should be fabulous - and fabulous values, too. I will be buying plenty of these wines for normal consumption. Chateau St. Martin and Domaine de Fontsainte are just two producers that made killer wines with the 2007 vintage.
I did not travel the Loire Valley this year, but the Sancerres I tasted were exceptional with really pure Sauvignon Blanc flavors and excellent ripeness, with Hippolyte Reverdy crafting a delicious "porch pounder" for immediate drinking.
I should remind you that I am not a person who is "vintage" driven, meaning I don't put a huge amount of weight in a "vintage score." There are always great-to-drink wines to be found in almost any vintage, especially with today's technological and farming advances. This preview is to recommend what to look for and what I'm excited about. Once you taste them, you'll see what I mean. Cheers!
Roberto Viernes is a master sommelier. E-mail
.(JavaScript must be enabled to view this email address)
Most Recent Comment(s):