Keeping the Cameras Rolling
With the severe downsizing of the state film office, Georja Skinner, herself a filmmaker, is in charge of efforts to keep new TV and movie projects coming to the Islands

Wednesday - March 31, 2010
By
.(JavaScript must be enabled to view this email address)
E-mail this story | Print this page | Archive | RSS
|

Del.icio.us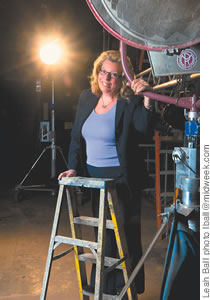 Georja Skinner at the state's Diamond Head production studio
Georja Skinner is a star maker. Throughout her career she has helped local artists and promising talent find their way to fame in the entertainment field. Now she is performing on a larger stage in state government with a mission to put Hawaii on the map in the global market.
Who is this woman who started out as a Maui tourist and is now an influential government official? Can she use her star power to ignite Hawaii's artistic community to become an economic force? What has her journey been like, transitioning from independent entrepreneur to civil service public servant?
If you told me 20 years ago when I was her public relations agency colleague that Skinner would be a government official today, I would have laughed it off.
The free-spirited woman I knew then did not fit the mold of a bureaucrat. She hobnobbed with film location scouts, TV script writers, broadcast personalities and musicians. The glamorous world of show biz and cultural extravaganzas would hardly compare with the toned-down image of a civil servant.
But we know that micro-managing a creative, flamboyant force like Skinner is foolish. She is as playful as she is productive. She is as bodacious as she is brilliant. It is wiser to harness both sides of her personality for the best results.
That is what the state Department of Business Economic Development and Tourism did in 2007 when it hired Skinner, 57, to become chief officer of its Creative Industries Division. In the process, they have cultivated a committed public official whose job is to nurture a promising sector of our economic growth.
It's no small task, given the state's desire to complement tourism and technology with ancillary industries. But Skinner has read the script, knows the role well and admits this is her most important performance to date.
She's been in rehearsal for many years, and now it's showtime!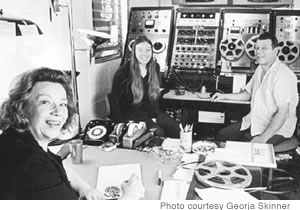 Skinner (center) grew up in a creative home - mom Pearl was a singer and artist, dad George a sound engineer who had his own studio at home, where Georja learned his craft
The Creative Industries Division develops and guides economic opportunity for Hawaii's artistic, cultural and entertainment assets. Branches include Film Industry (Hawaii Film Office) and State Arts and Culture Development. Thirteen industry groups, such as performing and creative arts, publishing, design services, radio-TV broadcasting and music are encompassed in this sector.
In total, the creative industries account for 44,650 jobs in Hawaii, according to the state Research and Economic Analysis Division. This 2008 figure is up nearly 10 percent from 2002. The earnings average is $49,947, well above the statewide average of $43,900.
Beyond the direct employment provided by museums, art galleries, design and other creative firms, the vitality of the local arts and cultural scene is increasingly viewed by development specialists as key to attracting knowledgeable workers expected to drive 21st century economies.
Many organizations, Skinner points out, view themselves as artists, not businesses, and don't realize they're eligible for the same programs - from tax breaks to work force training - as other companies.
If DBEDT has anything to say about it-and it does by statutory mandate -we can expect a push for greater growth in this sector.
Skinner is at the helm for making this push. Her background, experience and contacts at all levels are critical to her success. Fortunately, she comes with good credentials.
Hollywood Babe
Skinner was born and raised in Hollywood, the entertainment capital of the Pacific. "Although I come from a lower middle-class family, my sister (Teresa) and I experienced the full range of performing arts by taking art, ballet and music classes. My mother (Pearl) was a singer and artist. Dad (George) was a sound engineer at Capitol Records," she says. "We had a recording studio in our home, where I learned the basics of sound mixing and audio recording. I started at age 5 to edit music on reel-to-reel machines."
Skinner attended Hollywood High, Los Angeles City College and Art Center College of Design. Her internships in filmmaking and TV production led to contacts with influential creators and geniuses in show biz like Michael Wadleigh, director of Woodstock, and Norman Lear, writer-producer of TV hit shows like All in the Family, The Jeffersons, Mary Hartman Mary Hartman and others.
An Emmy nominee, Skinner was the first female sound mixer for prime-time network TV shows and the first woman to be nominated for an Emmy in that category. In a male-dominated field, she scaled TV studio catwalks in high heels.
Maui Mogul
Skinner likes to say she's in the 30th year of a three-week vacation. She arrived on the Valley Isle in 1980
Page 1 of 2 pages for this story 1 2 >
Most Recent Comment(s):