Shop! Score! Win!
Kalaheo High athletic director Mark Brilhante, HHSAA director Christopher Chun and Castle High athletic director Richard Haru are in the Shop and Score game, helping schools earn athletic gear by shopping at Times $250,000 is up for grabs

Wednesday - August 24, 2011
By
.(JavaScript must be enabled to view this email address)
E-mail this story | Print this page | Archive | RSS
|

Del.icio.us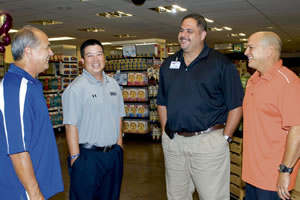 (from left) Castle athletic director Richard Haru discusses strategy for this year's Shop and Score campaign with HHSAA executive director Christopher Chun, Times Supermarkets director of marketing and merchandising Chris Borden and Kalaheo athletic director Mark Brilhante. Nathalie Walker photo

.(JavaScript must be enabled to view this email address)
In its 11th year, with schools feeling a budget pinch, Shop and Score offers $250,000 to purchase sports gear and uniforms, taking the total above $1 million
Castle High School athletic director Richard Haru looks forward to the calendar's annual turn to the month of August.
The changing of the seasons from summer to fall brings with it the re-emergence of football, girls volleyball and cheerleading, as well as other athletic opportunities student athletes look forward to after summer vacation. While students associate this time of year with pop quizzes and practice in the simmering summer heat, for Haru August marks another important event: the launch of Shop and Score.
The annual Shop and Score program is back for an 11th year of assisting high school athletes. Times Supermarkets and Kraft Foods in Hawaii are again making it possible for high schools on Oahu, Maui and Kauai to earn a share of $250,000 in free athletic uniforms and equipment. Not only is this year's total monetary allotment the highest in the history of the program, but the effort also will aid in surpassing the $1 million mark in total donations.
"It's provided tremendous support relevant to purchasing uniforms and equipment," Haru says. "Because of budget cuts every year, we've had to provide for the program with less and less. The Shop and Score program has come along at a very opportune time because of the amount of uniforms and equipment we've been able to purchase."
Shop and Score kicks off today and runs through Oct. 4. During that period, customers at Times Supermarkets and Big Save stores on Oahu, Maui and Kaua'i can earn points for any public or private school of their choice via the purchase of Kraft Foods and other designated products that are labeled accordingly throughout the stores. Each item sold equates to more points for the designated school, and the higher point values garner a greater percentage of the total donation.
"I was speaking with some of the (athletic directors), and we were talking about the economic downturn and what communities can do for the schools," says Chris Borden, director for marketing and merchandising for Times Supermarkets. "Obviously purse strings have been tightened and it's harder to give, so we felt it was important to get a couple more vendors on board and up the total amount we are donating to the schools by $50,000. We really want to support the community. It's a great program for us to help give back to the kids. It's a good thing to see the customers get behind the effort."
In addition to points earned through customers purchasing designated products, schools can earn 100 points for each account opened at American Savings Bank by customers on the three islands. ASB also will award $25,000 in scholarships to outstanding students as part of the program.
"It's one of our biggest programs that we run throughout the year," says Gerald Shintaku, customer business manager for Kraft Foods Hawaii. "Research shows how important athletics are for young people, not only for fitness but also in terms of building teamwork and character."
According to Haru, Castle has parlayed Shop and Score funds into uniforms for nearly every sport it offers, including basketball, soccer and football, over the past decade.
"We've been very fortunate, and I can't say enough about the community support," he says. "They've been tremendous. They've supported us from the outset, and continue to support us. Castle High School appreciates them very much. It goes back to the studentathletes. While the budgets have been cut, what we need to purchase has increased, and that has made it very challenging. So, once again, we're fortunate to have this program."
In 2010, Castle received its highest Shop and Score award, bringing home more than $20,000.
"If I'm not mistaken, we've led the Shop and Score program for eight or nine out of the 10 years," Haru recalls. "We look forward to our community once again coming out to support us."
When asked to describe the extent of the budget cuts thrust upon public high schools in recent years, Haru estimates there has been up to 50 percent less money available to pay for equipment and transportation costs. As an example, Castle's budget for transportation was recently slashed to about $12,000 per year. But, as Haru explains, "you need anywhere between $20,000 and $30,000, depending on if playoffs are involved and how many programs a school has. When it was cut that low, we would run out of (transportation) funds before December we still had more than half the school year to go. We feel fortunate that we still get (state) funding, but as is the case across the nation, things are really tough. We don't want to have to go where some other states have gone" with a pay-for-play system that forces student-athletes to pay a registration fee much the same way as community recreation leagues operate.
Haru credits his school's use of its newsletter as a way to spread the word each year as Shop and Score re-launches. Castle even has cheerleaders go to stores to promote the
Page 1 of 2 pages for this story 1 2 >
Most Recent Comment(s):