Picture This
Scrapbooking has become a billion-dollar industry as more and more folks cut and paste their life's memories

Wednesday - August 11, 2005
By
.(JavaScript must be enabled to view this email address)
E-mail this story | Print this page | Archive | RSS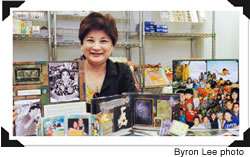 Sandra Aoyagi has been scrapbooking for
more than 30 years. After losing her husband
just one month ago to a heart attack, her hobby
has taken on new meaning.
A few months ago, Sandra Aoyagi felt a compulsion to scrapbook a page for her album about her husband, Eric. Titled "As On Our Way We Go," it included two photos of Eric and his name in air-dry clay at the top of the page.
"He walked by and said, 'Hey, nice page,'"Aoyagi remembers.
Just a month later, Eric, Aoyagi's husband of 25 years, passed away suddenly from a heart attack.
"It's weird," says Aoyagi. "I rarely feel a compulsion to do a page like that and I don't usually do one of just Eric himself. But I just felt like I needed to put these images down."
Aoyagi was also working on another album, a present for her husband, that she never got around to finishing for their February anniversary. The album was the story of their love. Even though Eric is gone,Aoyagi says she still plans to finish the album.
"I think it will help," says Aoyagi, the mother of two sons, Sean and Davin. "I have only four pages left to do, and I don't like to leave work undone. And when my kids see this in the future, they don't have to wonder about how their parents met."
Aoyagi says she could never understand the therapeutic value of scrapbooking until her husband's passing.
"Many people I know, when they lost a child or someone, felt it was so important to put it down and go through the process of remembrance," says Aoyagi, who has been scrapbooking personally for 30 years. She is also a representative for Aloha State Brokerage, a company that supplies Hawaii stores with some of their scrapbooking and rubber stamp supplies.
"It's the same principle with critically ill people or senior citizens. It's almost like a journal. And when you look at it, it helps you remember the best of times."
Scrapbooking is the practice of combining photographs, memorabilia, written narratives, poetry, quotations, stories or other textual content into a scrapbookstyle album. These albums are often embellished with ribbon, fabric, colorful graphics, stickers and artwork.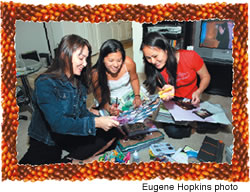 The author, with friends Stacy Arakaki (center)
and Seilee Nakamura, make scrapbooking
a time to socialize
Today's scrapbooks are made for personal use, as family genealogies, historical records of organizations, community groups and as gifts to co-workers, family or friends.
The $3 billion scrapbooking industry is one of the fastest-growing industries in the United States, and Hawaii is no exception when it comes to its addictive appeal.
Whether it's a creative outlet, therapeutic release, historical journey or gift from the heart, scrapbooking offers something for the artist in all of us — men, women and children alike. "When scrapbooking first started getting crazy, people thought maybe this would just be a fad, it would come and go — people might do it for one or two Christmas seasons and that would be it," says Brian Ching, owner of Photo Craft in Kaimuki, Oahu's largest scrapbooking scrapbooking supply store. "But we all have photos and they don't go away. One of the things that's driving people is not just working on contemporary photos, but the old photos as well, so those memories don't get lost."
Photo Craft is a scrapbooker's paradise. Ching carries more than 50 different companies' products in his 4,200- square-foot shop with the latest in scrapbooking trends and even a few we haven't seen much of in Hawaii yet, such as mulberry paper flowers that he imports direct from Thailand. He has a large work area for his club members to come in and work on their projects for $1 an hour and utilize some of his equipment.
"The industry is big and it's still growing," says Ching, who previously ran a business taking pictures of newborns at Queen's and Kapiolani hospitals. "But I think we've seen it go from very simple, where you could hardly find paper, to now every single other hobby is getting thrown into the scrapbook. Sewers are using their sewing machines to sew right onto their page, beaders are putting beads into designs, quilters and rubber stampers and so on."
Aoyagi agrees, but notes that people still need to be careful not to put just anything in their albums. You still want to make sure you preserve your photos well and in Hawaii's environment, certain things can damage your photos, like magnetic albums and small metal tacks, which can corrode in Hawaii's salt air.
Page 1 of 3 pages for this story 1 2 3 >
Most Recent Comment(s):