Skateboarder Without A Peer
Cody Peer of Mililani is by far Oahu's best girl skateboarder. She's also one of the few girls competing in the sport. So she's leading a campaign to get more girls involved — not just because she needs the competition, but because skateboarding is so darn much fun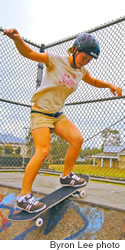 Sliding along the slip
Aspiring pro skateboarder Cody Peer may just be the coolest 15-year-old on four wheels. She's often the only girl competing against the boys, and wants to tell other girls to "don't be scared, just do what you love to do."
An honor student who skate-boards every day, Peer stars in promotional videos filmed by her dad, edited by her brother Mark and sent to prospective sponsors, all in the hope of one day dropping onto the global stage as the "best skateboarder in the world."
Peer's best friends - her mom Sandy and cousin Summer Bega - figure prominently into the picture, too. She calls her family the "greatest support system you could have" and says: "If I didn't have such a great family life, I don't think I'd be skating. I don't know where I'd be. I just want to say I'm very grateful for what I have."
At the skate ramp in Mililani, a short shot from her home, she's out on a drizzly Saturday, dressed in a tan shirt and brown-and-pink shoes provided by her sponsor Gallaz, and riding a skateboard that has a deck, the flat surface you ride on, courtesy of another sponsor, Element Skateboards. The wheels, bearings and hardware attachments she bought on her own, just that day. "It was $80 and that's, like, discount," she says.
Her shoes, too, were pretty new, not yet worn through with the telltale hole on the right-side shoe, a result of flipping the board "when you ollie."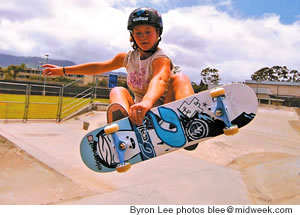 Cody Peer grabs a rail while catching some big air at the
Mililani skate park
Gallaz sends her three pairs every month or two, which may sound like a lot, but as Peer says, "They go quickly."
Peer took up skateboarding about four years ago when the skate park was built.
"I actually rollerbladed for the first year and then I started skateboarding full time," she says. "I do it every day. It's like kids that love to play football or baseball, but mine's skate-boarding. That's my sport. I love it - it's a great feeling - you're going down the ramp, the wind is flying through your hair and you don't hear anything else but your skateboard."
And she's got skills, too. When she performs an aerial trick called frontside air for the photographer, a boy watching nearby says, "Damn!"
A friend she grew up with, Darren Enos, who's a street skater, says of Peer: "She's a really nice girl, and to top it off she's a really good skater. And she's always 100 percent confident in everything she does - it's crazy."
Besides skating, Peer does volunteer work, including reading to students at Mililani Uka Elementary School and lending at hand at Ronald McDonald House "as often as I can."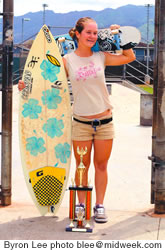 Cody with her favorite boards
and hardware
Realizing her dreams of turning pro as a skateboarder, she says, "would be awesome, cause I could travel the world and help others. That's what I would like to do, help others ... like AIDS and poverty in Africa. My brother's going to Africa in July to plant gardens with his church."
At school, a highlight for Peer is the Recreational Leadership program at Mililani Middle School, where she is in the eighth grade. As a leader she helps her physical education teacher Natalie Hirata teach running, cardio and other things to sixth-graders.
On the lip
"Sometimes when I'm walking in, they call me Miss Cody," she says. "It's a nice feeling when they respect you like that."
Peer enjoys it so much she says, "If skateboarding never works out, I'll be a P.E. teacher."
Nick Yamasato, a friend she admires and a member of the Blue Hawaii Surf skateboarding team, says Peer is one of those positive-vibe people you like immediately. He saw her talent from the very first time he saw her skate.
"She doesn't stress on it too much, she just goes out and has fun, and that's when you progress," he says. "I'm rooting for her, for sure. Whatever she does in the future, I know
Page 1 of 2 pages for this story 1 2 >
Most Recent Comment(s):