Extensions To Alleviate Traffic Woes
Wednesday - September 06, 2006
By Kerry Miller
E-mail this story | Print this page | Comments (0) | Archive | RSS
|
Share

Del.icio.us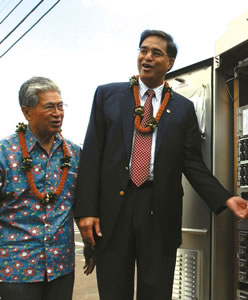 U.S. Sen. Dan Akaka and Mayor Mufi Hannemann
count down as they prepare to switch on the
new Kama'aha-Fort Barrette traffic light. Photo
courtesy of the James Campbell Company.
Mayor Mufi Hannemann and U.S. Sen. Dan Akaka joined in celebrating the grand opening of the Manawai Street and Kama`aha Avenue road extensions Aug. 14 in Kapolei.
The project was funded by the Kapolei Property Development LLC and carried a $6 million price tag. Work entailed an extension of Manawai Street one block from Kapolei Library to Kama`aha Avenue, the extension of Kama`aha by three blocks between Fort Barrette Road and Manawai, as well as the installation of a new traffic light at the intersection of Kama`aha and Fort Barrette.
"It's going great,"said Maeda Timson, who chairs the Makakilo-Kapolei-Honokai Hale Neighborhood Board. "The extension alleviates traffic going through the heart of the congested Kapolei shopping center."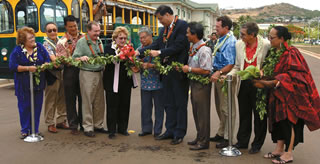 Mayor Hannemann oversees the untying of the maile, officially
opening the new Kapolei road extension. Taking part in the
celebration are (from left) Maeda Timson, Ken Kobatake, City
Councilman Todd Apo, Steve MacMillan, Donna Goth, U.S. Sen.
Dan Akaka, the mayor, City Councilman Nestor Garcia, Clint
Churchill, R.J. Zlatoper and Kahu Nettie Tiffany. Photo courtesy
of the James Campbell Company.
The purpose of the extensions is to give residents another way to navigate through Kapolei. For Ewa Beach drivers entering the area, the improvements make for an effective shortcut to various locations, including the city and state office buildings.
Timson uses the new route in the morning when she drops off a couple of children at Seagull School.
"It saved me about 10 minutes (in the morning). It was a big difference,"she reported. "It's a good way to move around Kapolei."
While some people have reported that the road development hasn't lessened their trip times or their time waiting in traffic, Timson responded that peak morning traffic hours are busy times despite the road improvements.
"Comments that I've received have been pretty positive,"she said. "(The traffic) has been something that people have been complaining about. Our biggest priority in this community is traffic congestion, so anything to relieve it is welcome."
Timson hopes city buses also will start traveling the new routes, and she plans to suggest it at the next board meeting.
Most Recent Comment(s):