Ishida Wins Jr. Athlete Of Year Title
Wednesday - January 27, 2010
By
.(JavaScript must be enabled to view this email address)
E-mail this story | Print this page | Comments (0) | Archive | RSS
|
Share

Del.icio.us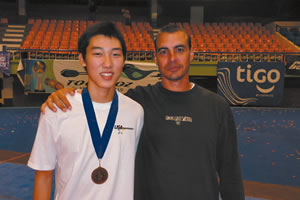 Jaysen Ishida (left) with Brian McCutcheon, who coaches the 2009 USA Taekwondo Co-Male Junior Athlete of the Year at his Aiea-based Oahu Taekwondo Center. Photo from Scott Ishida.
The Aiea-based Oahu Taekwondo Center has many accomplishments under its belt, including the privilege to boast that one of its students, Pearl City High School senior Jaysen Ishida, was named 2009 USA Taekwondo Co-Male Junior Athlete of the Year. Not only that, but Ishida's coach, master instructor Brian McCutcheon, was named USA Taekwondo Coach of the Year.
Ishida received the honor because of all the tournaments he participated in throughout 2009, including a gold medal he earned as one of 20 athletes on the USAT Junior National Team at the Pan Am Championship Nov. 19-22 in El Salvador.
"It was exciting seeing all the different countries," said Ishida, who was the lone participant from Hawaii."It was coolest for me to be there as a team, the U.S. national team. I'm usually with my own Hawaii team."
His mom, Jenny, and dad, Scott, as well as his older brother Jensen were all in attendance. His father, who did a little bit of judo growing up, said the family enrolled their sons in taekwondo so they would have something to do.
"Dedication and hard work are what put him over the top," Scott said. "He has a desire to be the best."
The younger Ishida trains nearly every day with several fellow athletes, including his brother, who was on the 2005 U.S. Junior Pan American team and the 2008 U.S. Junior World Team.
"There's a lot I like about taekwondo, like the traveling part," said Ishida. "I like to get into the work leading to an event because it prepares me for the tournament, which is the most exciting part. I like the competition where I get to test my skills against other people - challenging the best to see how I compare."
Another benefit of the sport, he said, is the camaraderie.
"My brother and several other athletes, we've grown up together," Ishida explained. "We are close in and outside of taekwondo. We try to push each other to reach our goals."
Coach McCutcheon, who started the Oahu Taekwondo Center 14 years ago, said Ishida is intimidating when he is in the fight.
"When he moves forward and backward, and when he kicks, he's really amazingly fast and strong,"McCutcheon said."If you're scouting that match and you know that's your next match, that's very uncomfortable to see. He is extremely explosive.
"His personality is hardworking and funny. He is a great guy to work with. He's got a great personality and a different kind of sense of humor. He is always cheerful. He's just a great guy."
McCutcheon was named USA Taekwondo Coach of the Year as a result of a nomination that looked at his accomplishments and dedication to his students, who he takes to tournaments both national and international, eight to 15 times a year.
"It's a big deal," he said."I think that award is a reflection of the parents and the students of our program as much as it is anything I put into it. I'm really lucky to have such hard-working parents and players."
In Ishida's letter of recommendation to the committee, he wrote that what stands out about McCutcheon is that he is really open with his athletes:
"If it is training, pre-event, post-event, video reviews or just hanging out, if an athlete has questions or a suggestion regarding a situation in a match, Coach McCutcheon is open to what they have to say. I am very thankful that Coach McCutcheon is my coach, and know with his guidance I will become a better player, but more importantly a better person."
Just to name a few more recent accomplishments: Members of Oahu Taekwondo Center have been on the USAT Junior National Team for six consecutive years; have trained with 2008 Olympian Anju Jayson; and student Juanito Cajimat will participate in the eighth World Junior Taekwondo Championships in Tijuana, Mexico, in March.
Another honor for which McCutcheon has been nominated is the 2009 USOC (United States Olympic Committee) Volunteer Coach of the Year, awarded to coaches in various sports who help athletes develop from novice to the elite level. A winner will be determined the first week of February.
A Kaneohe resident, McCutcheon started studying taekwondo in 1986. His wife, Tamara, also works at the school and their children, Mandy, Macy and Ty, also are in training.
Oahu Taekwondo Center is located at 98-790 Moanalua Road in Waimalu. Call the center at 486-2500 or visit http://www.oahutaekwondo.com for class times, prices and more information.
Most Recent Comment(s):