Kapolei School Holds Fall Festival

Wednesday - October 18, 2006
By
.(JavaScript must be enabled to view this email address)
E-mail this story | Print this page | Comments (0) | Archive | RSS
|
Share

Del.icio.us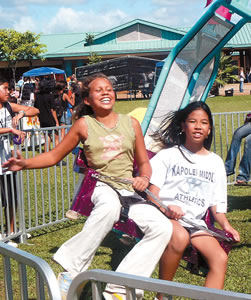 Friends enjoy a ride together at a past Kapolei
Middle School Fall Festival. This year's festivities
take place Friday. Photo courtesy of the school.
Kapolei Middle School's eighth annual Fall Festival is back with more food, fun and rides than ever before - and every-one's invited.
From 1:30 to 9:30 p.m. Friday the campus will be transformed into an all-out festival with carnival rides, games, contests, a student dance, food, local vendors, entertainment and even a free movie.
"We show a movie, (an event) called Movie on the Mound after the rides close up at 5:30," said Terry Bunkley, Parent Community Networking Center facilitator. "We don't like to give the movie away, so let's just say it's about a hedgehog and is newly released."
The fun begins following the end-of-school-day bell, featuring more than 25 booths, manned by popular establishments like KC Drive Inn, Mitsu-Ken, Papa John's Pizza and Jamba Juice.
"This year Jamba Juice is going to come, and that money will go to the student incentive account, which is an ongoing program. If students follow directions, they get a Warrior Dollar to spend on a prize from the student store," said Bunkley.
This popular community fair is the primary fundraising opportunity for the school and neighboring complex schools.
"We have our teachers who want to make money for trips that the students go on during the year," added Bunkley."This year the sixth grade is going to Disneyland, seventh is going to New Zealand, and eighth is going to Washington, D.C. So the sales from the rides will go to each of the grade levels for their trips."
Throughout the day students singers and dancers will perform, followed by professional comedian Professa Tesdale taking the stage at 6:30 p.m. Concluding the festivities is the showing of a movie on the outdoor screen as darkness falls at around 7 p.m.
Admission and parking are free. Kapolei Middle School is located at the intersection of Kapolei Parkway and Kamaaha Avenue. For more information, call Terry at 693-7025 ext. 236 or visit www.kapoleims.k12.hi.us
Most Recent Comment(s):