Miss Ko Olina Brings Home The Big Crown

Wednesday - July 22, 2009
By
.(JavaScript must be enabled to view this email address)
E-mail this story | Print this page | Comments (0) | Archive | RSS
|
Share

Del.icio.us
Miss Hawaii 2009 (and Pearl City girl) Raeceen Woolford. Photo courtesy of the Miss Hawaii Organization.
Raeceen Woolford knows a thing or two about competition. After five years performing to a high level of expectation as a defensive specialist for the Rainbow Wahine volleyball team, she has seen her fair share of public performance and criticism.
So taking on other talented, attractive women for a title of Miss Hawaii was a relative walk in the park. No cheering or jeering fans, no skinned knees and no demanding coach expecting perfection.
But like her athletic career that began in elementary school and covered nearly every contest open to young girls, vying for Miss Hawaii was yet another challenge to overcome.
"I wanted to try something new, something completely different and out of my element, and in the process hopefully win a scholarship and represent the state," said Woolford, who is looking to obtain her master's degree in public health before heading off to medical school to become either a pediatrician or OBGYN.
This year's competition was her second attempt at making her academic dreams come true. A year ago she won Miss Honolulu before finishing third runner-up in Miss Hawaii. Now, at the ripe old age of 24 and in her last year of eligibility, she gave it another shot, winning Miss Ko Olina and the big one, Miss Hawaii.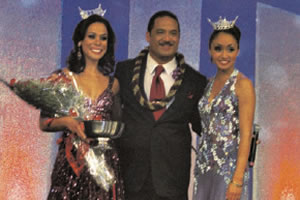 Miss Hawaii 2009 emcee Billy V witnesses the passing of the crown from Nicole Fox (right) to Miss Ko Olina Raeceen Woolford (left) June 27 at the Hawaii Convention Center. Photo by Yu Shing Ting.
"Last year I came into the pageant thinking you had to do things a certain way, that you had to walk a certain way and place your hands neatly at your side or whatever," the Pearl City native explained. "You realize that none of that really makes a difference. It has nothing to do with how you walk. It's really about how well you know yourself and how well you can be you.
"I really focused on not trying to fit a certain mold rather create the mold of Miss Hawaii."
Woolford's next challenge comes Jan. 30 in Las Vegas where she will battle 50 other women for the right to represent not just her state, but also her country. And while she'll likely be competing with women more experienced than herself when it comes to pageants, she says her athletic background has given her the discipline and focus to succeed.
"Volleyball played a huge role in preparing me for Miss Hawaii," she said. "It had a lot to do with discipline, prioritizing, being able to concentrate your efforts to a certain task. You need to acknowledge your strengths and weaknesses and do your best to balance them out. There are a lot of parallels."
Similarities in commitment may exist, but when it comes to the physical demands, pageant preparation simply doesn't compare to trying to maintain the legacy of a nationally ranked athletic program.
"Volleyball is a lot, a lot, a lot tougher than going on stage and just being me. You train for years and years for volleyball - it's physically demanding and you don't know what to expect. The ball is up in the air and it can go anywhere. In the pageant, I know what to expect."
Woolford won't predict victory, but she has the self-confidence of all accomplished athletes and counting her out, as with any former Wahine, would be a big mistake.
Most Recent Comment(s):