White House Honors Linda Uehara
Wednesday - May 23, 2007
By Lisa Asato
E-mail this story | Print this page | Comments (0) | Archive | RSS
|
Share

Del.icio.us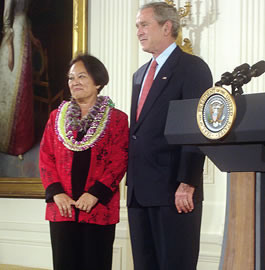 Linda Uehara with President George Bush. Photo
from Marcie Herring.
Longtime Waipahu teacher Linda Uehara was honored at a White House ceremony recently where President Bush gave her a presidential award for voluntarism and a "Hawaiian style" peck on the cheek.
In a pre-ceremony tete-a-tete, Uehara said she told the president the men in her family send their regards, "and he quickly responded that he's glad the woman of the family came to deliver the message."
"I thought,'Oh, what a sense of humor,'" recalled Uehara, a teacher for 33 years at Honowai, Kanoelani and August Ahrens elementary and Kapolei Middle schools. Uehara brought a lei and candy for the president, which she left with an aide. "I hope he was able to enjoy it later," she said.
Uehara was among six individuals to receive the President's Volunteer Service Award - the nation's highest honor for community service - at a May 10 ceremony celebrating Asian Pacific American Heritage Month. With dignitaries, community leaders and her daughter Marcie Herring looking on, Bush praised the volunteers for setting "a powerful example for all Americans."
Your "acts of kindness have changed lives; they've laid the foundation for stronger communities, and they really speak to the strength of America," Bush said, adding, "The true strength of the country lies in the hearts and souls of citizens who hear the call to love a neighbor and do something about it."
Uehara, 60, first heard the call as a youngster. She was a student member of the Waipahu Elementary School Service Organization, a junior leader and adult leader at city summer fun programs, advisor to high school girls' clubs while a college student and most recently, in the last decade, a volunteer with the Coalition for Drug-Free Hawaii, where (her daughter) Herring is a trainer.
Uehara, a member of the Juvenile Justice State Advisory Council, has also been active for three years with Hawaii Girls Court, which works to prevent or reduce female juvenile delinquency.
"When you help others, it gives you a sense of purpose and pride, builds your self-esteem, and you just become a happier person and you can make wise choices," said Uehara, encouraging others to also take up the call. "For me, working with the girls, I see their goodness, their essence, and I'm glad we're there to share, we talk story. My goal is for them to see they each have special skills and gifts and talents."
While in Washington, D.C., Uehara and Herring enjoyed a continental breakfast with U.S. Sen. Daniel Akaka and his wife, Millie, toured the White House and visited Learn and Serve America, whose public schools program in Hawaii nominated her for the award.
Uehara, a 2006 HMSA Ola Pono Award recipient for promoting safe, drug-free lifestyles, credited significant adults in her life with shaping her own healthy outlook and civic-mindedness, including principals at the schools she taught at, club advisers who encouraged service work in her as a youth, and her parents, Ayano and Macario.
Her father, an immigrant from the Philippines, volunteered with the Waipahu Jackrabbits sports organization for more than 35 years."All three of my kids are connected with youth and the community, and I think that's the legacy my father has passed on," said Uehara, who has two sons, Del and Beau, and lives in Mililani with her husband, Danny.
"Some of it is voluntarism, some is a part of their jobs. That's the connection we all have."
Most Recent Comment(s):