New Year, New Art

By
.(JavaScript must be enabled to view this email address)
January 17, 2012
|
Share
A couple of friends recently attended a modern dance performance. Generally homebodies, they had stepped out of their comfort zone and come back elated, feeling they'd crossed some invisible barrier to join the "art crowd."
Visiting Louis Pohl gallery offers a similar experience. Whether you're an aficionado or a neophyte, the latest exhibit, which runs through Jan. 31, "Beginning," is a pleasure to delve into, and owner Sandra Pohl's elaboration on the artists and their work sends you about your day with a lighter step, feeling cultured.
"With each of these three artists, their artwork is a reflection of who they are," offers Pohl. "Estelle is a beautiful woman with style, and that's what her artwork shows. Takeo has a spiritual serenity, and when you look at his artwork that's what you feel. Eric, his work is so playful and bold, just like his personality.
"All three are really good friends and they've been friends for years, so it's kind of nice bringing all of their work together here."
Keeping with the theme about beginnings, Eric Chandler's octopuses are brightly colored, their tentacles swirling against a muted background that recalls ancient cave hieroglyphics, instantly combining ancient and modern, land and sea, motion and stillness, the subdued and vibrant. It hearkens back to the primeval aquatic life that recedes, making way for man and the dawn of civilization.
Estelle Green's koi are the most true to life of the three artists' works. The centerpiece is a vision in emerald: koi circling purple lotuses in sparkling, jewel-green waters. Pohl points out that the fish are playful, yet the paintings have a serious side, depicting familyoriented themes, yin and yang, "a balanced life." A matriarch with grandchildren and even great-grandchildren, Green's art history goes back to her own childhood, yet this is her first show, a new beginning.
Takeo Kobayashi's tragic story of late belies the innocence in his delicate depictions of nature flowers, birds, butterflies in pastel pink, purple and blue. His process of painting on rice paper, washing the paper and then painting again, gives his watercolors texture and a fragile appearance. Like his artwork, despite a turbulent year, he's a gentle soul. "March 11 was a drastic change for my life," says the Japan native. "I don't care for the number 11 anymore." His family passed away in the March 11, 2011, tsunami, and on April 11 he had a stroke that required several bypasses and a lengthy heart operation. "Spring Bird I painted for many beautiful springs to come to the tsunami victims in Japan, so they can fly again!" he says, his optimism shining through when he adds, "I went to Kamakura Temple in Japan with my hanai son Jason Momoa, and we wished for him to become a movie actor. Yes, our dream came true! The temple had long steps, but we reached to the top, we were so happy."
What an image: the soft-spoken Kobayashi with gargantuan local boy Conan the Barbarian's Jason Momoa.
Kobayashi's two pieces depicting hydrangeas at Kamakura memorialize that special moment with his hanai son. May the Spring Bird continue to bring you promising beginnings, Takeo.
Speaking of beginnings, this debut column will appear every other week, introducing readers to the latest happenings in the local theater and art scene. I invite you to join me in the journey as we have fun exploring and appreciating a wonderful array of local talent.
the TICKET stub
LOUIS POHI GALLERY
When:
Tuesday-Friday, 11 a.m.-5 p.m.
Saturday, 11 a.m.-4 p.m.
Where: 1142 Bethel St.
Call: 521-1812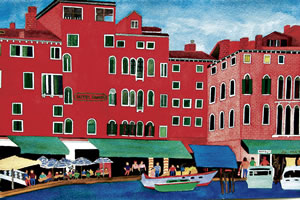 ALSO SHOWING
Gallery on the Pali
Tucked away in Nuuanu Valley is Gallery on the Pali, a simple, spacious room in the First Unitarian Church of Honolulu. The gallery that lays claim to being the longest-running gallery in the state, and which features artists both noted and new, presents "To Be Determined" through Feb. 2.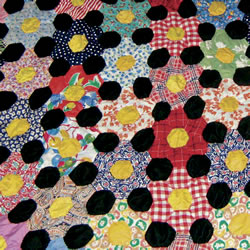 The exhibit features two artists: Dave Devenot with realistic and abstract paintings reflecting cityscapes in Europe and Honolulu, and Elizabeth Kent with quilts on which she's applied creative finishing touches to work begun by other artists. Says Devenot: "I enjoy capturing the colors and vibrancy of life abounding in shops, plazas, cafes, parks and buildings in such varied locations as Honolulu's Chinatown, Paris, Provence, Munich and Umbria."
Kent contemplates the show's theme as she states, "Who knows what 2012 will be like? It's to be determined. We really don't know what will come next it's evolving, like our artwork." She says her reclaimed artwork is known as UFOs in the quilting community, "others' unfinished objects."
Most Recent Comment(s):
Commenting is not available in this weblog entry.