A Taste Of 'Koreanmoku Street'

By
.(JavaScript must be enabled to view this email address)
Wednesday - September 23, 2009
|

Del.icio.us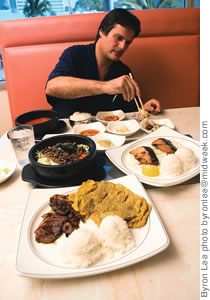 John Kahle samples some of his favorites at Millions
Let's go to Korea town. Where's that? It's mauka of Ala Moana Center on Koreanmoku Street. I mean, Keeaumoku Street. Within a span of five blocks is a concentration of nifty places to find imported Korean goods and delicious food.
Grocery stores, gift boutiques, fashions, hostess bars, 24-hour restaurants, kim chee stalls and herbal medicine. You'll find it all at Korea town.
There's no official sign or map designating this cultural district, but the predominance of Korean-speaking merchants and shoppers is a good indication of the flavor here.
This is especially true of the Korean eateries. From hole-in-the-wall joints to 24-hour full-service restaurants, you can't go wrong finding a decent Korean meal here.
Here's a sampling of ono hanguk yori (Korean cuisine).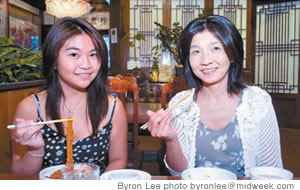 Yumi and Wakako Masuda enjoy lunch together at Sorabol once a month
Choi's Garden. 1303 Rycroft St. 596-7555.
I love the fact that if you don't tip right, one of the mama-sans chases after you. Kind of the Soup Nazi-mode of customer service. Hey, but why not? Those "free" side dishes cost money. Yummy starters include two types of kim chee, sautéed fish cake, spinach, mung bean sprouts, burdock root and tasty perilla leaves. Complement it with sizzling meats ($20-$40) on the yakiniku grill, monk fish stew ($17), or Ho Pak Pumpkin Mochi Rice ($16). Find this restaurant behind Walmart, and notice there are many Koreans eating in the place. Good sign.
Millions. 626 Sheridan St. 596-0799.
This hole-in-the-wall gets rave reviews on chat networks. There is the occasional drunk who can't remember whether he liked it or not, but generally the reaction is positive. Convenient parking, efficient service, ventilated yakiniku area, and truly fine food. Try Doi Sot Bi Bim Bap in hot stone pot ($13), Grilled Miso Butterfish ($18), Spicy Kalbi Soup ($14) and Yakiniku Sets for two (from $44).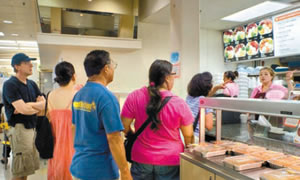 Palama Supermarket's plate lunch counter
Ono Kim Chee. 1225 Keeaumoku St. 941-8161.
Owner Song Chu Oshiro greets you at this tiny take-out counter on the north end of Keeaumoku Street, off Kinau. Here you'll find a variety of homemade kim chee (from $2.50) made fresh daily by Oshiro. Cabbage, cucumber, turnip, and more. This essential condiment to Korean meals is her specialty. Banchan (side dishes) also fill the counters, offering items such as seaweed egg rolls ($3), tofu patties ($3 for two) and marinated meats.
Palama Supermarket.1670 Makaloa St. 447-7777.
This is the Korean Arakawa's. You can find everything here, from bamboo mats and wall clocks to Korean pears, melons, and red pepper paste. Want raw kalbi meat or kim chee by the pound? They have it here at convenient, self-serve counters. And there are packaged goods of every sort, soups to nuts, imported from the Land of the Rising Sun. A snack shop inside has yummy plate lunches and soups. Owners Hyo Kyu and Hae Joo Lim, started Palama Supermarket in 1977 as a tiny Korean convenience store on Kalakaua Avenue.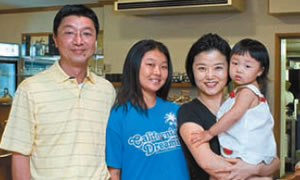 Young Jin Ha, Jung Yun Ha, Soo Jung Ha and Sophie Ha of Shillawon
Shillawon. 747 Amana St. 944-8700.
This place is top-of-mind with many non-Koreans who like the variety of food and dining atmosphere. Some say it's a bit pricey, but that's relative when you're looking for satisfying meals. The All-You-Can-Eat Yakinuku ($22 lunch, $25 dinner) is a star attraction, offering tender cuts of pork, beef, chicken and vegetables to grill at your table.
Sorabol. 805 Keeaumoku St. 947-3113.
The awards it gets for Best Korean restaurant are as inconsistent as the rave reviews it gets from patrons. Love it or leave it, it's worth a mention because of its 24-hour schedule and major presence at Keeaumoku and Rycroft streets, across from the HMSA building. The extensive menu will turn your head, but folks applaud its Kalbi Chim ($20) steamed short ribs, and So Hyuh, seasoned sliced cow tongue ($19).
Also recommended.
Charcoal-grilled yakinuki at Mi Ga Won, 1726 Kapiolani Blvd.; Green Tea Mul Naengmyeon (cold noodles) at
Daechun, 825 Keeaumoku St.; Red Bean Sherbert at Bin's inside Palama Supermarket.
Most Recent Comment(s):