Enjoying Salad Days On Oahu

By
.(JavaScript must be enabled to view this email address)
Wednesday - February 17, 2010
|

Del.icio.us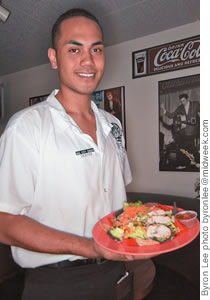 Dexter Tautofi with Paniolo Chicken Salad at Big City Diner Kaimuki
Did you welcome the new year with a vow to eat healthier and lose weight? That resolution will last four weeks, according to experts. But good intentions count for something.
Many of us are going "green" after the holiday binge. No more fried pork chops with mushroom gravy, katsu curry with starchy rice and potato-mac salad. As winter turns to spring, we'll begin the "salad" phase of our existence.
The good news is that there are delicious, creatively made salads to be found all over town. They're a meal in themselves. You don't have to stick with the standard chef or Caesar in a dull routine. We went on a salad safari and found savory salads for under $10.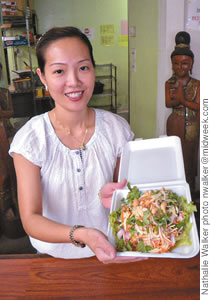 Bangkok Chef owner Sansane Chang offers Green Mango Salad to go
Bangkok Chef. Nuuanu, Manoa
Papaya Salad ($6.75) Papaya, chili peppers, garlic cloves, long bean, tomato with crushed peanut in a house special sauce. Medium spicy.
Green Mango Salad. ($7.25) Green mango julienned with carrot strips, cilantro, shallots, chili pepper and cashews in house special sauce, a tangy fish sauce. Very spicy (broke da mout').
Big City Diner. Kaimuki, Ward, Kailua, Pearlridge, Waipio
Paniolo Chicken Salad ($7.99). Spicy mix of lime-marinated chicken, sweet roasted corn, chopped Roma tomato, Wisconsin Cheddar and Jack cheese, tri-colored chips and cilantro over mixed greens.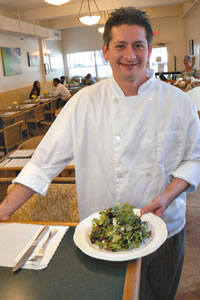 Grand Cafe and Bakery chef Anthony Kui Sin Vierra serves up Tipsy Cranberry Salad
Grand Café. 31 N. Pauahi St., Chinatown.
Tipsy Cranberry Salad ($10.25). This one's more than $10 but worth the extra quarter. Cranberries, walnuts, blue cheese and greens. An explosion of flavor with a salad dressing you'll want to drink for happy hour.
California Pizza Kitchen. Waikiki, Ala Moana, Kahala, Pearlridge, Kailua
Moroccan Chicken Salad ($9.99 half). Moroccan-spiced chicken breast with crisp romaine lettuce, roasted butternut squash, Medjool dates, fresh avocado, toasted almonds, fresh beets, chopped egg, carrots, dried cranberries and red bell peppers. Tossed with CPK champagne vinaigrette.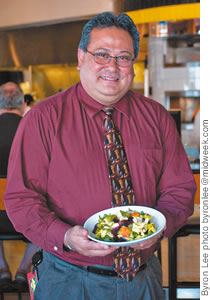 CPK Ala Moana manager Randy Hess shows off Moroccan Chicken Salad
Little Village. 1113 Smith St., Chinatown
Pecan Spinach Salad ($7.25). My all-time favorite. A delectable combination of young, tender spinach and spring greens topped with shredded chicken and roasted pecans. Served with a citrus dressing.
Ryan's. Ward Centre Ryan's Crunchy Pea Salad ($7). Petite sweet peas, water chestnuts, sugar snap peas and chopped fresh bacon combined with a creamy herb dressing. Trendy, yummy and oh-so-ladylike. For a bigger appetite, ask for Three Sampler Salad ($13) that includes pea, chicken with sesame dressing and Kakaako prawn servings.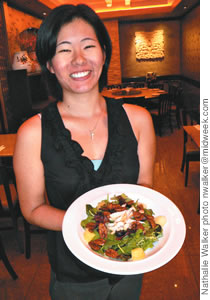 Little Village manager Aimee Miyahira-Chan loves the Pecan Spinach Salad
Super Pho. 3538 Waialae Ave., Kaimuki
Lemon Beef Salad ($9.99). Vietnamese-style salad that's like pho without the broth. Thin slices of beef marinated in minced lemongrass and other seasonings are placed on a mound of crisp lettuce, basil and cucumber, then topped with crushed peanuts and lemon juice.
Waioli Tea Room. 2950 East Manoa Road
Waioli Chicken Curry Salad ($9.75). Waioli's popular chicken curry salad on a bed of greens, garnished with mango chutney. Also available in pita bread. Enjoy it in the setting of this historic old structure in verdant Manoa.
Editor's Pick. Best in our editor Don Chapman's book are the Grilled Lamb Salad with dried cranberries and blue cheese ($14.95) as well as Scampi-Spinach Salad with creamy dressing, Maui onions and tomatoes ($13.95) at Buzz's Lanikai. OK, these are a bit pricier than our $10 salad budget, but management has its privileges.
Most Recent Comment(s):