Good Eats On North King Street

By
.(JavaScript must be enabled to view this email address)
Wednesday - July 16, 2008
|

Del.icio.us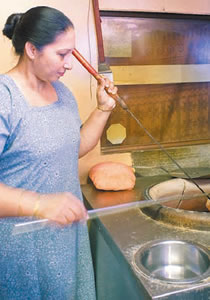 Rukshana Khan, head chef at Zaffron, cooks naan bread in the tandoori oven
My favorite Food Network program is Diners, Drive-ins and Dives with off-the-hook host Guy Fieri. I wear my sunglasses on the back of my neck and shout "Money!" when I taste something good.
While Fieri tools around in hot rods to discover America's DDDs, I cruise humble neighborhoods and local streets to spot MAP HITW - momand-pop holes in the wall.
My latest exploration took me to King Street, a six-mile stretch from the edge of Moanalua Freeway at Fort Shafter to the tip of Harding Avenue in Kaimuki.
Starting from North King Street and moving through South King, it's a virtual oneway thoroughfare through nifty places like Kalihi, Palama, Chinatown, downtown Honolulu, Kakaako, Pawaa, McCully and Moiliili.
What I found along the way are vintage saimin stands, exotic Pacific Rim cuisine, fine bakeries and exalted landmarks such as Alan Wong's and Chef Mavro. It's a melting pot of dining choices.
Here are a few that are "money."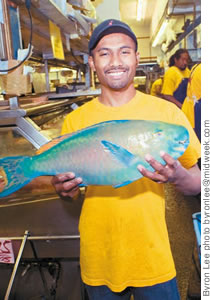 Duke Joseph of Tamashiro Market has a fresh uhu aka parrotfish that he will be happy to clean for you
Old Saimin House, 1311 N. King St., and Palace Saimin, 1256 N. King St. These are among the few old-style saimin stands in town. There's something sentimental and classic about the simple broth and chewy, curly noodles that can't be duplicated by today's packaged saimin and ramen concoctions. A steaming bowl of saimin is Hawaii's signature comfort food and satisfies every situation, from mealtime to hangovers. These two gems are adjacent to Kapalama Post Office. Small to extra-large bowls of saimin from $3.25-$4.75. Barbecue meat on a stick is $1.75.
Kiawe Grill, 1311 N. King St. and 2334 S. King St. There's something so alluring about King Street that Kiawe Grill has two locations on it. That gives you twice the opportunity to enjoy its signature barbecue specialties such as juicy burgers (from $5.85) and plate lunches (from $6.95) including kalbi, chicken, lamb chop and pork chop. Kiawe-grilled pulehu meats and chops are also available. Try Kobe beef, buffalo or ostrich burgers for some variation. Spice it up with Korean condiments.
Tamashiro Market, 802 N. King St. Tamashiro Market is one of the most recognizable landmarks in Kalihi, marked by a big, red crab at the front of the building. This is a must stop for the largest selection of seafood in the state (more than 75 varieties). You'll also find live shellfish (oysters as big as your palm) and ono poke (30 types). Check out the produce including luau leaves, green bananas, breadfruit, green papayas, pasteles, kulolo and ready-to-eat meals. It's like a country store in the city.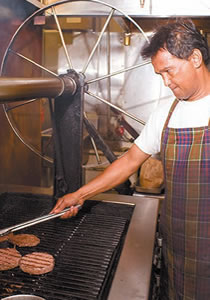 Rudy Selga grills up some Kobe burgers at Kiawe Grill
Golden Palace Seafood Restaurant, 111 N. King St. One of Chinatown's most flavorful dim sum values ($1.89 per order). Patrons crowd the foyer waiting for tables or take-out orders. Don't dally. Just resign yourself to pan-fried pork-stuffed eggplant, steamed bean curd roll, deep-fried seaweed roll with shrimp, and steamed seafood roll. When the steam carts roll by with other offerings, point and choose. Have a pot of hot tea and make it a convivial lunch with family or office colleagues.
Indian restaurants: Zaffron, 69 N. King St.; Café Maharani, 2509 S. King St.; India House, 2633 S. King St.; India Bazaar, 2320 S. King St. Don't know why they're aligned on King Street, but it's a happy coincidence if you like the exotic flavors of Indian food.
Zaffron displays its daily offerings in lunch and dinner buffets (from $12). Café Maharani and India House have a la carte menu items including savory curries, lamb kabobs and vegetarian specialties. India Bazaar has the best bargain at $7 vegetarian and $7.25 chicken plates, where you choose your favorites from an okazuya-style hot food counter.
In the next installment, there'll be more King Street roadside eateries, including one of our editor's favorite Thai restaurants, a Korean-European bakery, ono noodles and okazu, and fantastic ham sandwiches.
Most Recent Comment(s):