Seeking Out Sunrise Sensations

By
.(JavaScript must be enabled to view this email address)
Wednesday - June 27, 2007
|

Del.icio.us
Islanders are early risers. We can't wait to get goin'to beat the sun or traffic. That means we're ready for a meal at the crack of dawn. They say breakfast is the most important meal, and it shouldn't be skipped. You don't have to tell me twice. I'm on it the minute I shake myself awake. But where do I go and where are the so-called sunrise sensations?
Follow me to pancakes, waffles, and biscuits that broke da mout'.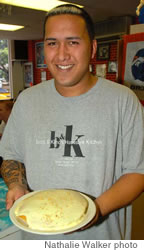 > Assistant manager
Austen Kaikona with
Boots and Kimo's
house signature
macadamia nut pancake
Boots & Kimo's Homestyle Kitchen. Kailua. Breakfast is served all day (Tuesday-Friday, 7 a.m.-2 p.m.; Saturday-Sunday, 6 a.m.-2 p.m.) and despite the onolicious homestyle omelettes, you'll want Kimo's famous Pancakes with Macadamia Nut Sauce ($5.95). 131 Hekili St. 263-7929.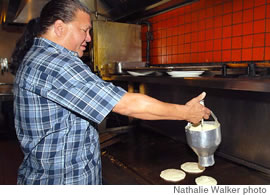 > Chef Carsie Green uses a pancake gun at
Cinnamon's
Cinnamon's.
Kailua Square. Another all-day breakfast stop that's a people magnet on the Windward side. The Carrot and Raisin Pancakes ($4.75-$6.75) will bring you to tears. The delicate cinnamon-flavored batter is dotted with sweet raisins to produce marvelous pancakes, topped with freshly shredded carrots and Cinnamon's own cream cheese, and butter on the side. Daily 7 a.m.-2 p.m. 315 Uluniu St. 261-8724.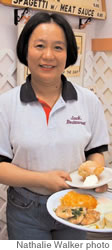 > Michelle Lin serves
up breakfast, including
Jack's Special Biscuits
with honey butter
at Jack's in Aina Haina
Jack's. Aina Haina Shopping Center. They come from far and near for Jack's Special Biscuits with honey butter ($1). Have it a la carte, or complement your morning meal with this melt-in-your-mouth creation. Jack's serves more than 150 hot biscuits on busy days, and we can taste the reason why. Daily 6 a.m.-2 p.m. 820 W. Hind Drive, 373-4034.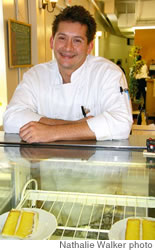 > Grand Cafe executive chef
Tony Vierra
Grand Café & Bakery.
Chinatown. Located in the former Wing Coffee Building, circa 1916, the food and recipes of this establishment reflect Honolulu of the early 1920s. Signature breakfasts (from $6.25) include Grand Café cured Corned Beef Hash, Bananas Foster French Toast with the fruit sautéed in butter and brown sugar, and Sticky Bun Cinnamon Rolls ($3.25) that will stay in reverie forever. Tuesday-Friday, 7a.m.-1:30 p.m.; Saturday-Sunday, 8 a.m.-1 p.m. 31 N. Pauahi St., 531-0001.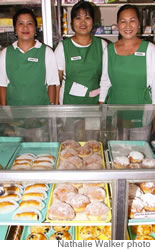 > Jannette Navarro, Rhizza de
Guzman-Soria and Carol
Asentista are ready to serve
you at Liliha Bakery
Liliha Bakery.
Enough already about the iconic cocoa puffs. My money's on the hefty pancake that is so good they sell the batter in take-home cartons. If you're lucky enough to rate a stool at
the meal counter, you'll watch those famous pancakes come hot off the griddle. You're tempted with maple and coconut syrup to sweeten the deal. Batter up. 24 hours, closed Monday. 515 N. Kuakini St. 531-1651.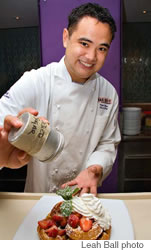 >Kyle H. Higa at MAC 24-7
MAC 24-7. Waikiki. Its platter-sized Mac Daddy Pancakes ($11) are legendary and a feast for the eyes and stomach. Kona Coffee Mocha pancakes come dripping with warm butter caramel, and the famous Elvis- thank you very much - is a novel creation with peanut butter swirled with bacon bits. Rock 'n' roll to the Hilton Waikiki Prince Kuhio anytime. 2500 Kuhio Ave., 922-0811.

>Studio Cafe owner Greg
Heller with Malted Belgian
Waffles with Fruit
Studio Café. Hawaii Kai. Nifty place dockside at the Hawaii Kai Towne Center. It's a restaurant by day and photo studio by night. Posed for greatness during breakfast is the Malted Belgian Waffles with Fruit ($4.95-$6.95) that's crisp, light, and so satisfying. This also is the
home of Mocha Shave Ice ($3.95) with a snow cap and chocolate syrup on top and a scoop of ice cream on the bottom. Be still my heart. Monday-Friday, 7:45 a.m.-2 p.m., 4 p.m. on weekends, 396-9393.
Other breakfast landmarks include: Hungry Lion, June Jones Special of fried rice, corned beef hash, Spam, Portuguese sausage and eggs; Big City Diner, kim chee fried rice and eggs; Original Pancake House, 49er flapjacks; Kakaako Kitchen, fried rice; I Love Country Cafe, turkey Benedict; Starbucks, spinach and egg muffin sandwich; Diamond Head Market, blueberry and cream cheese scones; and Zippy's, chili moco.
Most Recent Comment(s):