The Local Charm Of Lunch Wagons

By
.(JavaScript must be enabled to view this email address)
Wednesday - December 08, 2010
|

Del.icio.us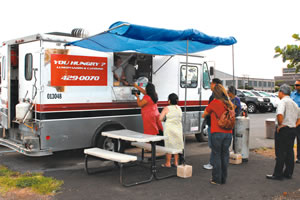 You Hungry serves lunch near Restaurant Row
Islanders are a casual bunch. The more informality in our lives, the better. That goes for dining as well. No need to impress us with full-service tabletop service, a glossy menu with tassels and expensive china.
We are content to balance a plate lunch on our laps while sitting on a wooden bench outdoors.
Some of our best-tasting meals come from lunch wagons, where the proprietor hands us a meal spilling over with gravy through a truck window.
Paired with a chilled can of guava-passion fruit juice, it's nirvana.
Wherever you find a lunch wagon or food truck, you'll find a line of locals - beach boys to businessmen - ordering tasty meals.
The mobile kitchen-on-wheels started in the plantation era when trucks brought hot meals to workers in the pineapple and sugar cane fields.
Now lunch wagons are fixtures at construction sites, industrial parks, empty parking lots and beachside venues. Some are permanent stations. Others are fly-byday operations that stay long enough to deplete supplies, then leave. Yet others are nomads that travel from one site to another in a kind of hide-and-go-seek venture.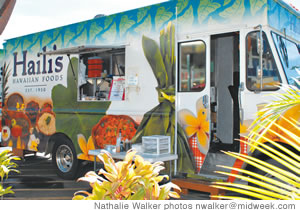 You can't miss the brightly colored Haili's Hawaiian Food truck
Have you tried any of these? Where are your favorites?
You Hungry
Corner of Halekauwila and South streets, Kakaako.
The lunch wagon formerly known as Puuwainani was bought two years ago by Joel and Jeanelle Cabais and is manned by daughter Chelsey. The truck has a loyal following and established reputation for gourmet-quality chow. But there's no snobbery here. It has the requisite handwritten menu board that lists eight regular entrees and an equal number of daily specials ($4.25-$6.75). Topping the list is best-selling Garlic or Blackened Ahi with sweet wasabi sauce, followed by Garlic Chicken and Fried Ahi Poke that's usually sold out by noon. Crab-Stuffed Salmon and Ono Hawaiian Steak Plate also draw rave reviews. You Hungry does catering, and if you'd like to run your own lunch wagon, they have an extra food truck for sale at $8,000 or best offer.
Haili's Hawaiian Food
1040 Auahi St., across from Ward Theatres.
Hands-down, it's the best-decorated food truck in town. Its eye-catching graphics are hard to miss in the parking lot at Ward Centre. Once housed at Ala Moana Farmers Market, Haili's is a known brand for ono Hawaiian food and its homey-family touch for generous portions and traditional tastes. Combination plates ($12), stew ($10) or mini meals ($5) with rice and kalua pig, laulau or long rice always get applause. Make it a backyard luau with take-away orders, or enjoy a satisfying meal in the shade of a tree and seating right at the truck. For dried aku and other packaged foods, visit Haili's full-service restaurant on Palani Street in Kapahulu.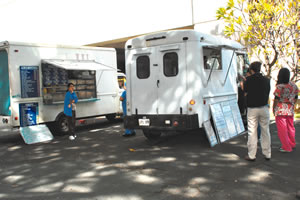 Yuki's (right) and the 'nameless Vietnamese lunch wagon' located near Queen's hospital
Yuki's
1236 Lauhala St., side of Honolulu Board of Water Supply.
Yuki's is tucked away on a quiet street as if it's hiding from the masses. But when you're serving delicious food, word gets out. Actually there are two food trucks parked between the Queen's Physicians Bldg. III and Cancer Research Center of Hawaii. One is Yuki's, and the other, sometimes referred to as the "nameless Vietnamese lunch wagon," is run by the folks who own Ba-Le bakery. Its menu is Southeast Asian-inspired with choices such as Lemon Grass Chicken and Sate Shrimp with Long Rice.
But the more familiar truck is Yuki's, with its four handwritten menu boards leaning against the side of the truck. There's an everyday menu, specials, sandwiches and mini meals ($4-$9.75). Sentimental standards are homemade Hamburger Steak with gravy and fried onions; Beef Curry or Stew; and Chili with Franks.
Specials herald more exotic fare, such as Roast Garlic Herb Chicken, Yuki's Mixed Bento and Chicken Sukiyaki. Popular sandwiches include Teriyaki Burger, Chicken or Pork, with or without kim chee.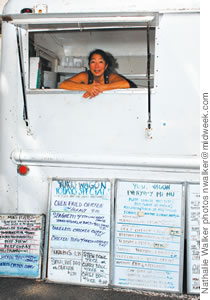 Yuki's is popular as much for the food as for the good cheer of Sandra Steele
Nicky
Punchbowl Street, next to Hawaii State Library and State Capitol.
If ever there was a barometer of economic conditions and the impact of state furloughs, it is Nicky's Lunch Wagon that parks between Honolulu Hale and the State Capitol. When times are tough, there are decidedly fewer lunch orders.
With the changeover in city and state administrations, one can only hope that Nicky's will prosper again after a bit of a slowdown. Surely, we can't put our appetites on hold.
The yellow lunch wagon operates downtown Monday through Friday offering fresh fish (upon availability), local plate lunches and a rotation of specials ($5-$8). Ask for a printed menu to check out the nine everyday choices and delectable daily deals, such as Garlic Roast Beef (Monday), Lamb Curry (Wednesday) and Hawaiian Plate (Friday).
Nicky also operates at three military locations: Naval IMF Bldg 1700, Pearl Harbor Shipyard and NAVPAC Bldg 258.
Most Recent Comment(s):