The Real Vegas Deal: Great Eats

By
.(JavaScript must be enabled to view this email address)
Wednesday - March 12, 2008
|

Del.icio.us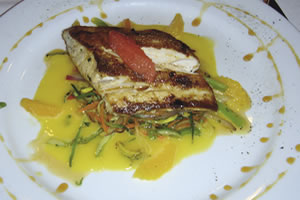 Rosemary's Hawaiian Mahi Mahi
LAS VEGAS - All the gaming glitz and decadence makes for an ideal adult playground ... and a vociferous appetite.
And Las Vegas doesn't disappoint in that regard.
In fact, its culinary character has evolved to an exciting level, making it a mecca for diversified dining. At one time, Vegas was known strictly for gambling. Then, it became the top night club and entertainment destination. Now, you can add fabulous restaurants to its attractions.
All the great ones are here: Emeril, Wolfgang, Roy, Nobu, Ducasse and more. The most lavish buffets, the most extravagant wines, the most decadent desserts and the most opulent dining rooms compete for your dining dollars.
Where in all of this dining delirium should one go on a limited time frame and limited budget? We asked islanders who frequent Vegas for their favorite dining spots and checked them out. Here are their recommendations:
Rosemary's Restaurant. When Lloyd and Carla Kawakami are on the "ninth island," they head about six miles off the Strip to West Sahara Promenade. There, they enjoy a dining oasis called Rosemary's, where chefs Michael and Wendy Jordan create French-inspired American cuisine with regional twists from New Orleans, the Deep South and the Midwest. A Wine Spectator Award-winning wine list complements a diverse menu and world-class beers.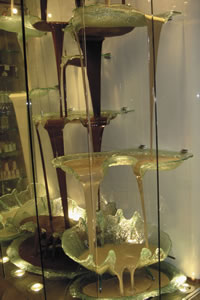 The world's tallest chocolate fountain at the Bellagio
"Rosemary's menu reads like a storybook of our lives," says Jordan. "The dishes reflect different moments in time, places and people that Wendy and I have experienced and the great memories of food that helped define those moments."
Carla's favorite is Brick Chicken ($29), true to the Tuscan tradition of cooking chicken under a brick. Weighing down the meat keeps its surface in contact with the pan, making a crispy outside with little fat. Coated with spices, the result is a funky, multicultural and healthy way to goose up chicken.
Other house favorites are Rosie's Monte Cristo ($15) of ham, turkey and Cantal cheese on batter-dipped brioche with crispy onion crust. Pan-seared Hawaiian Mahi Mahi ($18) with fresh citrus, Riesling and creamy passion fruit vinaigrette made my day. It is incredible. From pastas to duck confit with brandy green peppercorn sauce, Rosemary's is a gourmand's delight. 8125 W. Sahara Ave. Tel. 702-869-2251.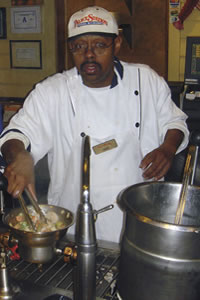 Cooking at the Palace Station oyster bar
Todd's Unique Dining. This is another Kawakami hookup to great eateries. Gourmet magazine hailed Chef Todd Clore, once a sous chef at Roy's-Los Angeles, as "someone to watch." His reputation is now firmly established with his own place, just eight miles off the Strip. Devotees praise his impeccable fusion cuisine and creativity. Examples are Goat Cheese WonTon with raspberry basil sauce ($7) and Ahi Tuna Tartare with avocado and roasted peppers ($9). Signature entrees include Seared Wild Ivory Salmon with soba noodles and dashi ($24), Colorado Rack of Lamb with pomegranate and black pepper ($27), Braised Boneless Short Rib with jalapeno mashed potatoes ($24) and Teriyaki Northern Halibut with steamed rice and bok choy ($21). 4350 E. Sunset Road Tel. 702-259-8633.
Bellagio. The Bellagio is bellisimo! From its dancing fountains to breathtaking Conservatory and Botanical Gardens, this is Las Vegas' ultimate address. Within this exquisite hotel, we found two of MidWeek columnist Kimo Akane's sweet spots. Café Bellagio has Las Vegas' best Banana Split ($8). Two slices of caramelized banana flank three scoops of creamy ice cream on a chilled plate accented by dollops of to-die-for chocolate.
Also don't miss Jean-Philippe Patisserie, named after the Bellagio's renowned pastry chef. Every creation in this European sweet shop is a work of art, including chocolates, cookies, cakes, crepes and gelato creations. Marvel at the world's tallest chocolate fountain that gushes two tons of white, medium and dark chocolate through 500 feet of piping. 3600 Las Vegas Blvd. Tel: 702-693-7111.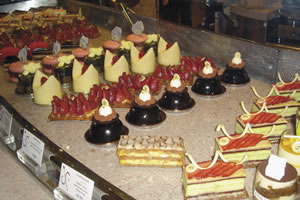 Assorted pastries from Jean-Philippe's
Palace Station Oyster Bar. A Creole chef presides over a clever-devised fixture of steam kettles and prepares chowders, gumbo, bouillabaisse and shellfish before your eyes. The live-action cooking station is fascinating. Steamers such as clams, mussels and shrimp ($15-$18) come with fresh sourdough bread, drawn butter and lemon, and cooked in a white wine and herb broth. Tasty Creole Chowder made with seafood, gumbo file, okra and Andouille sausage ($16-$19) is served with a scoop of white rice. Two scoops for da bruddahs. Linguini alla Vongole ($15) of baby clams over pasta, or Etouffee ($18) of shellfish in classic French Creole stew are other palate pleasers. 2411 W. Sahara Ave. Tel: 702- 367-2411.
Billy Bob's Steakhouse.
Sam's Town casino host Francis Yamaoka, well-known landscaper based in Hawaii Kai, makes several trips annually to Las Vegas to accompany high-rolling clients. While his guests aren't rolling dice, they're dining in grand style. How about a 20-ounce T-bone or prime rib, a 24-ounce porterhouse, or a 1 1/2-pound rib eye cooked over a mesquite broiler? Add a 2-pound potato and a huge salad (both included in dinners from $23), and you've got a meal big enough for a Texan appetite. For dessert, try the seven-layer Grand Canyon cake or foot-long éclair ($10). 5111 Boulder Hwy., Tel: 702- 456-7777.
Rio Buffet. Recognized as the best buffet in Vegas by guests and critics (including MidWeek columnist Kimo Akane), the Carnival World Buffet offers more than 300 dishes prepared fresh daily. From pizza to omelets, sushi to teppanyaki, fresh-carved meats to Asian barbecue, the colorful buffet at the Rio offers distinct dining experiences from around the world and features live-action cooking stations. Enjoy more than 70 varieties of homemade pies, cakes and pastries, and nine gelato flavors - all made from scratch. Breakfast $15, lunch $17, dinner $24, weekend champagne brunch $24. 3700 W. Flamingo Road 702-777-7777
Most Recent Comment(s):