'Tis The Season To Make Mochi

By
.(JavaScript must be enabled to view this email address)
Wednesday - December 27, 2006
|

Del.icio.us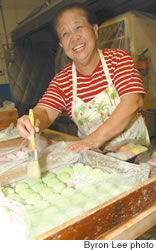 Fumiko Saito loves making mochi
at Fukuya Delicatessen and
Catering
We celebrate New Year's in a big way in the Islands. Besides fireworks, there are ethnic traditions that add color and festivity to the occasion. Preparing mochi - pounded rice cake - is ceremonial and symbolic.
The time-honored ritual calls for the use of wooden mallets to pound glutinous steamed rice in a stone or wooden mortar. A brave soul leans over the bowl to turn the mound of rice by hand. One must establish a rhythm with the pounder and have the dexterity of a magician.
The rest of us simply pound the pavement to our favorite Japanese okazuya or retail store to buy mochi. This lacks a bit in ceremonial authenticity, but if you do it with the right spirit, it's fine.
For Asians, mochi is the most important New Year's food. The sticky texture of the rice cakes symbolizes togetherness. It also represents longevity, wealth and prosperity.
On New Year's Day, the first meal in Japanese households is ozoni, a clear soup with mochi and vegetables. Families also enjoy mochi confections, filled with sweet bean paste, or strips of mochi (chi chi dango) with delicate fruit flavors such as strawberry, blueberry or lilikoi.
Mochi also is placed on an altar or other place of honor as an offering at New Year's. Two large mochi mounds are stacked on top of each other, topped by an orange or tangerine. The fruit symbolizes the togetherness of the generations and a continuing life of prosperity.
Meet the mochi merchants of our town:
Fujiya Ltd.
454 Waiakamilo Road Phone: 845-2921
Monday-Friday, 7 a.m.-3:30 p.m., Saturday, 7 a.m.-2 p.m.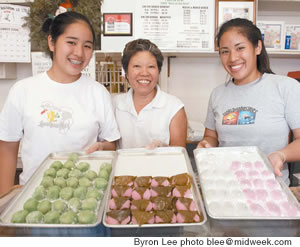 Melissa Onishi, Anne Hose and Kim Onishi show off colorful
mochi at Fujiya Ltd.
Henry Onishi owns and operates Fujiya, which produces 7,000-10,000 pieces of mochi and manju daily. For three days leading up to the New Year, Fujiya transforms 20,000 pounds of cooked processed rice into mochi.
Besides mochi filled with red or white bean filling, there is chi chi dango, bite-sized mochi strips in regular, blueberry and haupia flavors. Get them wrapped ($6.40 for 17 pieces) or unwrapped ($3.15 for eight pieces).
Mochi with bean (an) filling or peanut butter are 50 cents each, or you can get an assortment box for $6.25 (12 pieces) to $18.25 (36 pieces). Party trays start at $30.45 (60 pieces), requiring advance orders.
New Year's mochi range from $3.90 (8 ounces) to $11.10 (28 ounces) each. At the busy storefront counter, you'll also find senbei tea cookies, arare snacks, cookies, and preserved seeds.
Fukuya Delicatessen & Catering
2710 S. King St. Phone: 946-2073
Wednesday-Saturday 6 a.m.-2 p.m.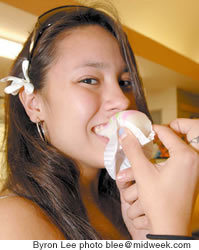 Chloe Dooley enjoys a Suama mochi at
Mikawaya in Shirokiya at Ala Moana
Center
Honolulu's oldest okazuya has excellent Japanese takeout and mochi for special occasions or munching at lunch. Proprietor Arrison Iwahiro continues a family tradition of feeding the plate-lunch masses, started 67 years ago by his grandparents Jihei and Tsuya Takayama.
A common sight at this Moiliili landmark is platters of food being wheeled to waiting customers who maneuver into its scant parking space on South King Street. There is usually a tray of pastel-colored mochi included in the order.
Mochi platters are $23 (40 pieces) to $34 (60 pieces). Selections include habutai, handmade mochi with sweet azuki bean filling; chichi dango, slightly sweet treats made with mochiko sweet rice flour; and yaki manju, baked bean pastry.
Boxed mochi range from $4.75 (9 pieces) to $14 (25 pieces). Komochi or frozen mochi is $5 a dozen. Kagami mochi for the New Year's displays are $5 for a small set to $30 for extra-large set.
Shirokiya Ala Moana Center. Phone: 973-9111
Open daily, holiday hours from 9 a.m.
The one-stop shop for Japanese ware and food is venerable Shirokiya at Ala Moana Center. If a food festival is going on, check out the mochi demonstrations and seasonal offerings.
Otherwise, head over to the confectionery section on the second floor where well-known brands of Japanese sweets are offered in artistically packaged splendor.
My favorite counter for mochi is Mikawaya, named after a prefecture in Aichiken, Japan. Mikawaya also stands for the finest name in wagashi or traditional Japanese pastries since 1910.
Its U.S. plant in Los Angeles ships exquisitely made mochi confectionery to Shirokiya every week. Choose individual pieces at $3.50 each or a set from $31.
Pretty pastel creations are molded into flowers, birds and fruits for a most attractive presentation. This is truly eye candy.
Mikawaya is also known for mochi ice cream, available in the refrigerated case at the store. This east-meets-west dessert was developed in 1993 by combining the unlikely duo of hot mochi with frozen ice cream. Enjoy yummy flavors of vanilla, strawberry, chocolate, azuki bean, green tea and coffee.
Made in Hawaii Foods' Saturday Grandma
KCC Farmers Market. Phone: 484-0052
Saturday, 7:30-11 a.m.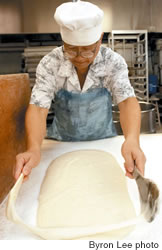 Zhong Sheng Chen prepares
some Habutai mochi at
Nisshodo
One of the best broke da mout' mochi finds is at Saturday's farmer's market at Kapiolani Community College near Diamond Head. At the Made in Hawaii Foods stall, you'll find Don Akiyama hawking delicacies such as Island preserves, Hashimoto Farms Maui per-simmons, and Saturday Grandma's ono mochi.
If there's a classification for gourmet mochi, this would get my vote for bes'kine. I drool just thinking about fresh strawberry mochi, chocolate truffles wrapped in mochi, peanut butter, sweet potato haupia, cheesecake and a variety of chichi dango including strawberry, lilikoi, blueberry, green tea, strawberry walnut, and chocolate haupia.
For the uninitiated, try a variety pack of three pieces for $4.50 and be ready to be impressed. Saturday Grandma's recipe comes from Alice Yamanishi, who once owned Taniguchi Store on Beretania Street.
Today, Akiyama and his wife Kyoko faithfully guard the family recipe and technique for making melt-in-your-mouth mochi and other delicacies. Go to the farmer's market and celebrate mochi magic.
Moiliili Mochi & Candies 1619 Liliha St. Phone: 523-8511
Monday-Saturday, 9 a.m.-5 p.m.


(from left) Calvin Yim (owner),
Naomi Bennett (manager),
Russell Park (owner) and Gilbert
Olayan (owner at Moiliili Mochi
& Candies
I love this neighborhood store because it's a geographic enigma. It's the Moiliili candy store in Liliha. But customers find their way to this treasury of sweets.
In an old-fashioned wooden case, trays of freshly made mochi are displayed like an okazuya window. You can point and pick mochi, like a child in a candy store, or simply order a box of assorted and save yourself the agony of choosing.
One thing's for sure, each piece is lovingly hand-made for the daily walk-in trade who know a good thing when they see it. This is a mom-and-pop type shop that time has not changed, although its ownership evolved from a family enterprise to an investment hui known as Only in Hawaii.
Traditional white mochi, tsumami (green mochi with white bean filling), and ohagi rice balls are among the selections at 70 cents a piece. Or choose chichi dango at 30 cents each in multicolored bits.
Gift packs come wrapped in a bow for $27 (two dozen pieces) or $37 (approximately three dozen pieces). These require a 24-hour advance order.
My favorite is the peanut butter mochi, which you can get in a creamy consistency or crunchy. It takes so little to make me happy.
Nisshodo 1295 Dillingham Blvd. Phone: 847-1244
Monday-Friday, 7 a.m.-4 p.m., Saturday, 7 a.m.-3 p.m.
This is the kingpin of mochi makers, established in 1918 and maintaining a standard of quality and consistency over eight decades in the business. Reigning over this stalwart enterprise is Richard Hirao, who at 80-something still rolls out mochi and only takes time off for church on Sundays.
Seems that loyal customers just won't let him quit. This is not a business, they say, Nisshodo is a tradition. The plant in Kapalama, adjacent to Honolulu Community College, is an annual stop at Girl's Day, Boy's Day and New Year's for celebratory mochi.
Mochi is made in three seasonal colors: white representing the snow of winter, red or pink for the flowers of spring, and green for the fresh abundance of summer.
If you're buying them as gifts or omiyage, assortments start at $6 for a dozen pieces. Individual selections, including sakura (cherry blossom) mochi and kuri manju with chestnut filling, are 50 cents to 70 cents each. Kinako dango, dusted with toasted soy flour, is $5 a pound.
Probably most popular is Nisshodo's individually wrapped chi chi dango, small pieces of unfilled mochi that are soft and dusted with katakuriko (potato starch). Like candy kisses, these tidbits are perfect for tucking into lunch boxes, snack trays and gift tins. Refrigerate them for a refreshing treat as well.
Send comments or suggestions for Broke Da Mout' to: .(JavaScript must be enabled to view this email address)
Most Recent Comment(s):