Where To Eat On South King Street

By
.(JavaScript must be enabled to view this email address)
Wednesday - July 23, 2008
|

Del.icio.us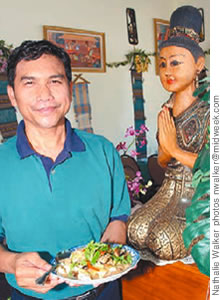 Supreecha Santhong with a plate of ginger chicken at Pae Thai
Second in a two-part series on roadside eateries along major thoroughfare King Street. Our writer is pretty single-minded, so we put her on a one-way street to casual dining. Will she ever get home?
In this chapter of Who's on King Street, I find myself driving aimlessly along South King Street. The four-mile stretch of South King Street, however, is a delightful cruise as I cover neighborhoods such as Pawaa, McCully and Moiliili.
When you're on a one-way street and miss your stop, it's a tricky maneuver to get back to the desired point. That happens to me as I look for a Thai restaurant suggested by my editor. I pass it once, miss it a second time when I can't find on-street parking, then double back to finally make it to Pae Thai Restaurant, between Piikoi and Keeaumoku streets.
Parking is tricky on King Street. There's either limited on-street parking or intimidating tow away signs that control your life during rush hour.
It's enough to work up an appetite. But these places are worth the traffic-go-round and parking safari.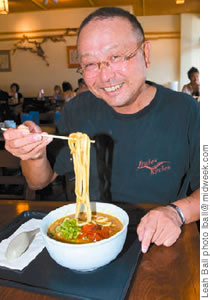 Owner Moto Jima isn't the only one who loves Jimbo's fresh, handmade udon
Pae Thai Restaurant, 1246 S. King St. When The New York Times discovered this gem on South King Street, the world became acquainted with chef "Dang" Sangthong's culinary skills and specialty dishes. Pae, named after a famous monk in Thailand, is home to delicacies such as Tom Yum Soup with exciting flavors of ginger, lemon grass, Kaffir lime and generous herbs, as well as Ong Choi Salad, which is water spinach tossed with shrimp, tamarind juice, ground chicken, squid, roasted cashews, cilantro and spring onion. It is dressed with sweet Thai vinaigrette, topped with fried ong choi. Also try peanuty Penang curry and whole angry fish (flounder dressed in garlic and chili pepper). About $25 for two.
Boulangerie, 1495 S. King St. Boulangerie is "bakery" in French and its cakes and pastries are yummy in any language. This only Korean-European style bakery in the state touts its made-from-scratch cakes (from $16); turtle bread ($7), a 13-piece mass of sweet bread filled with raisin and chestnut that's marvelous; and black sesame mochi balls ($1.39) that stole my mom's heart with its not-too-sweet, chewy (from tapioca) consistency. Roll cakes in green tea, mocha and vanilla flavors ($2.50 a slice) are delightful as well.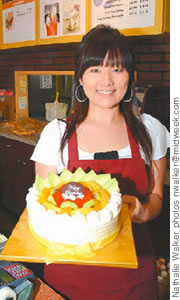 Jiwon Park shows off a Boulangerie birthday cake made with fresh cream and fruits
Jimbo, 1936 S. King St. Fresh udon noodles lure patrons here. One customer calls these thick Japanese noodles "handmade strings of love." Have it hot in a delicious broth (from $7), cold with dipping sauce (from $7) or in a salad with fresh veggies as well as combined with katsu curry ($11). Wicked. There are more than 50 varieties of udon dishes and combos, including oyako-don with chicken and egg, so knock yourself out.
Fukuya, 2710 S. King St. Much ado about okazu. So many of these charming mom-and-pop Japanese delis are disappearing. A venerable favorite in Moiliili is Fukuya dating back to the 1930s. I've always liked this family-run operation because of its food quality, clean presentation and good variety. Ume musubi, chow fun, shoyu chicken, croquette, nishime, namasu and more. Choose your favorites from the showcase of food and know that everything is seasoned with family tradition here. More ono.
Honey Glazed Hams, 2758 S. King St. I have a friend who changed her corporate Christmas gift from hams to expensive wine one year. The recipients actually complained, saying they preferred the ham, thank you very much. That's how good the hams are from Honey Glazed Hams of Hawaii.
Fukuya owner Arrison Iwahiro will happily fix a plate of your favorites
The hickory-smoked, spiral-sliced hams are sold by the pound and are easy to serve.
Lesser known is that you get great deli sandwiches, Portuguese bean soup and freshly baked corn-bread here, too.
Sandwiches (from $5) are filled with ham, turkey, roast beef or barbecue pork.
Aunty Mimi's Portuguese Bean soup in small, medium and large (from $2.95) is a tasty treat as well. Faithful patrons come here for deli take-out as frequently as three times a week. Don't let them have all the fun.
Most Recent Comment(s):