Continuing Founders' Legacy
By Jim McWhinnie
Wednesday - December 08, 2010
|

Del.icio.us
|
Share

By Jim McWhinnie
Chairman of Litigation Practice Group Damon Key Leong Kupchak Hastert
Today, it's a bit difficult to comprehend the impact, but in 1963, it turned heads - a law partnership between a grandson of haole missionaries from New England and the son of a Big Island sugar cane plantation worker from Japan. In the 1950s and '60s, those in power were predominantly white. Few Asian or women lawyers worked in Hawaii law firms, and none were partners in larger firms.
Damon and Shigekane became one of the first inter-racial law firms in Hawaii.
Cyril Francis "Frank" Damon Jr. and Henry Shigekane had met while attending Yale University. They became friends and, years later, after their legal careers initially took different directions, in 1963 they formed a unique partnership. While Henry retired from the firm in 1978, Frank continued to serve clients in the estate planning practice area for many years and, on occasion, still comes to the office.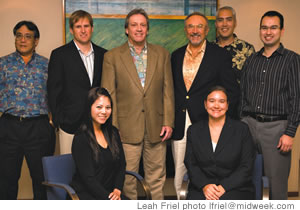 Damon Key Litigation Group:: (front,, from left) Noelle Catalan,, Rebecca Copeland (back)) Michael Yoshida, Steven Gray,, Jim McWhinnie, Kenn Kupchak, Mark Murakami and Matthew w Evans
That uncommon partnership still influences our firm today, now known as Damon Key Leong Kupchak Hastert. We pride ourselves on our ability to recognize and understand different viewpoints, and to extend respect to each person involved in the process. We have always fought hard for our clients, but we also fight with dignity. As a result, after disputes are resolved, we often develop long-lasting, positive relationships with opposing counsel and even parties.
When recently retired Hawaii Supreme Court Justice Steven H. Levinson left in early 1989 to become a Circuit Court judge, I was asked to join the firm as a litigator. A key factor in my decision to join the firm was Denis C.H. Leong, who was the firm's president and managing director, and a very practical, level-headed leader. Amid an office of strong-willed and independent-thinking attorneys, Denis was the consensus-builder who always promoted and exemplified our unique firm culture.
Today, the firm continues its legacy of ethnic and cultural diversity. We are a full-service law firm handling a wide variety of civil litigation matters, including business and commercial disputes, real estate disputes, land use, construction and personal injury matters. In all we do, we strive to continue our founders' vision of professionalism and collaboration. Visit us at hawaiilawyer.com or e-mail me at .(JavaScript must be enabled to view this email address).
Most Recent Comment(s):