Rockin' The Music Scene
By Peter Dods
Wednesday - February 17, 2010
|

Del.icio.us
|
Share

By Peter Dods
Owner of Easy Music Center
Founded in 1939 by Servco Pacific Inc., Easy Music Center was a community-based musical instrument store since its inception. Originally opened to help the people of Hawaii gain access to reasonably priced equipment, it has helped professional and aspiring musicians pursue their dreams for more than 70 years.
Servco's chairman and CEO Mark Fukunaga, an avid musician, always wanted to expand Easy Music's role within the community. When I purchased the store from Servco more than four years ago, I was honored to continue this tradition.
Well beyond sales, our goal is to catalyze and energize the Island music scene. Our move to a newer and larger location at 1314 S. King St. helped us realize this goal by providing enough space to build a live sound stage, fully equipped with the latest in professional audio gear, guitars, amps, keyboards, microphones, drums and ukulele. Here, we've held hundreds of performances, clinics and competitions.
Customers regularly jump up on stage and rock out with friends, family and even with those they've just met on the sales floor. Employees, instructors and representatives from musical instrument manufacturers host clinics ranging in topic from computer music production to drumming styles and techniques. All events are free and open to the public. We host the Beatroot, which showcases Hawaii's up and coming beat producers. A recent competition brought in more than 120 supporters. We average four events a month and sometimes even more.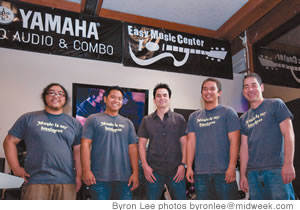 Easy Music staff (from left) Hiroshi Park, Allen Ubaldo, Peter Dods, Jericho Sombrio and Chris Davis
We promote these events by blogging on our Web site, sending e-mail blasts to our customers, tweeting on Twitter, and posting on Facebook and MySpace. During the events, retail operations come to a halt as we dedicate our staff to running the productions. Performances are filmed and posted on both our Web site and YouTube. These events are recorded from our sound board to a computer, which can be mixed down to a CD to produce a live sound recording.
Today, more than ever, musicians need a free and open spot to jam, create, learn and make new music. With the current reduction in public funding for the arts, the need for a venue like this is even greater.
Last year, we hosted more events, clinics, and competitions than we did in the three previous years combined. During the toughest economic time in decades, we had our strongest year ever. Profit and community building are not mutually exclusive. We here at Easy Music Center believe they go hand in hand. With the direction the world is going today, it is even more important that businesses step in and fill the void being left by the government and find ways to maintain the sense of community that makes Hawaii the special place we cherish so dearly.
Feel free to check out our Web site at www.EasyMusicCenter.com and sign up for our e-mail blast to make some noise with us!
Most Recent Comment(s):