Technology To Help Schools
By Brett Seitman
Wednesday - January 25, 2012
|

Del.icio.us
|
Share

By Brett Seitman
President & CEO of IAAK Education
IAAK Education plays an important role in our children's future. As technology continuously evolves, it is critical that we provide this generation with the necessary tools for academic success and achievement in an increasingly competitive economy. In 2003, It's All About Kids was established to meet the growing demand for educational technology and services. The vision was inspired by my mother, who is a lifelong educator. It became clear to me that education will always be an important aspect to increasing societal advancement. Since 2005, IAAK has become one of Hawaii's leading educational companies providing the best educational technology solutions to public and private learning institutions that service kindergarten through post-secondary students.
My prior experience working in the high-end luxury industry taught me the importance of offering superior products, providing impeccable service and employing and investing in great people. At IAAK, we provide the "Best of Breed" products, which are the top software and education tools in the industry. These include Promethean's Interactive Technologies, Safari Montage, Education2020, Learning.com, BenQ, HP, Cisco, Dell, and other blue chip hardware and software products. These tools maximize student achievement by combining education with technology, which makes teaching and learning engaging, exciting and innovative.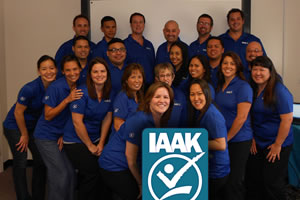 The IAAK team provides educational technology solutions. Photos courtesy IAAK
The products and the value that IAAK brings are maximized through the exceptional service we provide to educators, students and parents. By offering ongoing professional development through workshops, training seminars, strategic partnerships and conferences, our clients are able to utilize our products and services to their fullest potential. In addition, IAAK's achievement comes from its people, which I believe are our greatest assets.
Our staff receives the best training and continuing education to provide the expertise and quality services our clientele expects. Equally important is the culture and positive morale that is created by empowering and encouraging people to take some risk and push the envelope without compromising the outcomes. I firmly believe that drives creativity and a team spirit.
Overall, the key to IAAK's programs' success is based on providing ongoing support to our educators, continuous training for team members, and constant evaluation of our programs and software. As we begin 2012, we plan to expand program offerings, launch IT services, increase partnerships within the community, and implement more professional development to educators and employers.
For more information, visit iaak.net.
Most Recent Comment(s):