Aaron Placourakis

By
.(JavaScript must be enabled to view this email address)
Friday - May 04, 2007
Share
|

Del.icio.us
|

Podcast
|
WineAndDineHawaii.com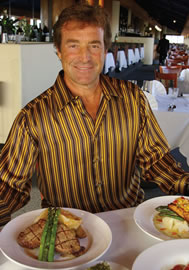 Aaron Placourakis
Aaron Placourakis is one of Hawaii's most successful restaurateurs. He was introduced to high quality service and the best of the restaurant world at an early age by his uncle, renowned restaurateur Nicholas Nickolas, and today his company, Tri Star Restaurants, owns Sarento's, Aaron's, Son'z on Maui, Sarento's on The Beach (Maui) and the phenomenally successful Nick's Fishmarket.
Age: 50
Title: President, Tri Star Restaurant Group
Where were you born and raised?
California. I went to UCLA and, like thousands of other students, I started to work in the restaurant industry when I was in college.
Was it always your intention to be in the food and beverage industry?
Well, my Uncle Nick owned Nick's Fishmarket in Beverly Hills, and I started working for him during the summers. I was always very close to him, and even though I was taking pre-law, I realized pretty quickly that this industry was perfect for my type of disposition.
You're from a Greek family, and your restaurants specialize in Mediterranean-influenced cuisine. I imagine food was a pretty big deal in your house.
Food was HUGE! My dad was born and raised on the island of Crete, and my mom was first-generation Greek. All of our holidays and family celebrations were based around food.
Who cooked - the men or the women?
Mostly my mom and my grandma. My mom would make this really great pilaf (a rice dish) that's made on Crete. The food was always so good - but today I can create those same dishes if I miss them!
Did you ever want to open a purely Greek restaurant?
No, not really, although Sarento's was named for my grandfather. I always wanted to focus on the Mediterranean influence - Italian, Greek, Spanish. Our corporate chef, George Gomes, is of Portuguese descent - we're totally European.
Who were your mentors?
My Uncle Nick, for sure. And my own mother and father.
What's always in your fridge?
Fake butter, fake salt, fake meat. There is absolutely nothing real in that refrigerator at all (laughs). I'm fortunate to be married to a woman who is very interested in preserving my life, so we eat incredibly healthy food at home. That's why I have all these restaurants - so I can eat well when I'm out! (laughs again). Seriously, though, you will find a fine selection of wines in my fridge.
With whom would you most like to have dinner at Aaron's?
Both of my late grandfathers. That would be the best. To see them and to hear them reflect on their lives would be great.
Most Recent Comment(s):