Adam Gilbert

By
.(JavaScript must be enabled to view this email address)
Friday - January 27, 2010
Share
|

Del.icio.us
|

Podcast
|
WineAndDineHawaii.com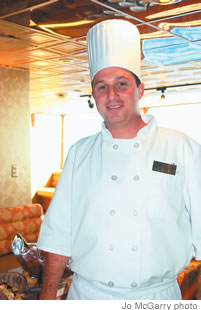 Adam Gilbert
Age: 32
Job title: Chef/Kitchen Operations Manager, Star of Honolulu
Where were you born and raised? Maine, then spent my formative years in Rhode Island.
What got you started in F&B industry? I have been working in the food industry since I was 12, and I spent many years before that in a restaurant my mother managed.
Where did you train? Southern Maine Technical School one year, Johnson and Wales second year, and KCC for nutrition, sanitation and hospitality management.
What brought you to Hawaii? Travel at first, then I stayed for the beach, weather and the people.
How different is the ship's kitchen to cooking in a restaurant? It can be extremely challenging. We ship all foods prepped from our commissary on land and then separate it among nine kitchens aboard the Star. All dishes have to go up and down in an elevator to the scullery, where our dish room and most of the kitchens are on the other side of the ship - not to mention the obstacles that you face when your ground is always moving!
What are some of the biggest challenges and the kinds of things that an everyday restaurant chef just wouldn't have to consider? We juggle 15 menus daily among four ships, then often we'll add on an outside catering event like Honolulu Marathon (3,000 people), while maintaining 100 people on a dolphin watch, 150 on our whale-watch cruise, 100 on the Starlet and 600 on the Star dinner cruise - and they're all eating different food!
So what's the secret? Organization and planning! And they also are the biggest challenges.
Do you cook at home? Yes, I make breakfast for my family almost every day and I cook dinner at least four nights a week.
Favorite dishes to make for dinner? My sons love pasta, so my wife and I roll out homemade pasta frequently. We make a simple red sauce with herbs from our garden and sausage. And we love grilled pizza. My 4-year-old loves this one because he helps roll out the dough (he loves to try the flip and spin) and he can choose his toppings.
Where do you like to eat when you're not working? Side Street Inn, Nini Kuya, my house ... I like simple Asian foods.
What's always in your fridge? Wine, cheese and eggs.
With whom would you most like to have dinner? Anthony Bourdain - I like watching people really enjoy their food with drink and good conversation.
Anything about you that would surprise people? I've been writing a book for quite some time, but it always gets put on the back burner. Hopefully I can finish sooner than later.
Most Recent Comment(s):