Adam Hightower

By
.(JavaScript must be enabled to view this email address)
Friday - January 20, 2006
Share
|

Del.icio.us
|

Podcast
|
WineAndDineHawaii.com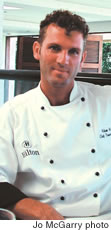 Adam Hightower
Executive chef, Bali by the Sea, Hilton Hawaiian Village
Age: 28
Where did you go to school?
Schoolcraft College, Livonia, Mich.
You're really young to be executve chef at a fine dining restaurant. Was it intention or accident?
It was part of a 15-year plan that was accomplished in 12 years, with the help of a tremendous amount of support and hard work.
What first piqued your interest in food?
My recollection of all my travels as a young kid with my parents, who took me everywhere with them, was trying everything from sashimi in Japan to fresh prosciutto in Italy.
Who had the most influence on you as a young cook? You're part of a generation that has grown up with TV chefs and the Food Network - did you have any favorites?
My mentor, Chef Dan Hugelier CMC (certified master chef), had the most influence on me as a young professional chef. He was - and still is - a culinary father to me. As for TV growing up, I watched Julia Child more than I did cartoons.
For whom would you most like to cook at the restaurant?
I would truly enjoy an opportunity to cook for my mentor and his family joined by my mother and father.
What's your idea of a great dinner?
I think a great meal to me is simple food, perfectly executed - and plenty of it!
Do you have a favorite restaurant in Hawaii yet?
I've been impressed with a number of restaurants in Hawaii. The food here just seems to be clean and genuine. The Islands are full of talented chefs.
Favorite dish at Bali right now?
My favorite dish on the Bali menu is toss-up between the sashimi and the Orange Miso Glazed Kona Kampachi.
What's always in your fridge?
My fridge is usually empty, but on a special occasion it will contain good cheese and a nice bottle of wine.
Favorite late night snack?
I do not cook at home for myself, but I do enjoy cooking for others; I just prefer to do it in the restaurant. I eat out as much as possible and call it research and development.
What's the tough part of the job?
Not sneaking off to the beach. Lately surfing has taken a back seat, but I look forward to knocking the dust off my board in the near future.
Best part?
The learning curve my boss (Chef Daniel) continues to throw me as a challenge on a daily basis. Learning is what drives me.
Any culinary ambitions left?
I'm looking forward to the opportunities to "give back" to the community. That has always been a goal of mine, and I think this job will provide me with that chance. The Hilton Hawaiian Village is major part of the community, so it's a good place to start.
Most Recent Comment(s):