Alan Jahns

By
.(JavaScript must be enabled to view this email address)
Friday - September 14, 2007
Share
|

Del.icio.us
|

Podcast
|
WineAndDineHawaii.com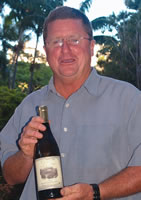 Alan Jahns
Alan Jahns has been on the wine scene in Hawaii since he arrived 30 years ago. Here he talks about his favorite wines and why he'd love to have a few nuclear physicists over for dinner.
Title:
Partner, JMD Wines.
Where were you born and raised?
I was born in Southern California and grew up in Newport Beach area.
What brought you to Hawaii?
The surf. I arrived in 1978 with three surfboards and a suitcase and no idea of where I was going to sleep that night. My folks thought that I'd be home in a couple weeks. I've been here ever since.
How did you get into the wine business?
Purely by accident. I was working at a restaurant called La Peruse in Wailea, and at the end of the night there were always lots of bottles with wine left in them. I started sipping as I was cleaning up, and one night the maitre d' caught me and asked if I was interested in learning about wine. So we started having these informal tastings at the end of the night.
What's kept the wine business interesting for you?
Well, if it was just about the money I'd be doing something else! The thing about wine is I learn something every day, and that's what I like. I love the travel involved, the growth and the learning opportunities. Being involved with wine is very subjective - it's like art.
Any standout favorite wines?
I love Burgundy and Pinot Noir. There's this winemaker in Burgundy, Claude Dugat, who has a postage stamp-sized vineyard and he makes incredible wines. Tasting some of his '95 vintage was one of those epiphany moments for me ... And those 30-year-old Rieslings that are so beautiful - I love them too ...
What's your favorite type of food?
I'm getting a bit retro these days. I find as I get older I'm going French, Italian. I'm not a big sushi guy, although I did go to Nobu the other night and thought it was very good.
Do you cook at home?
Yes, I do all the comfort food - pasta, garlic bread, Caesar salads, roasted meats, potatoes, that kind of thing.
What's always in your fridge?
Zinfandel or Pinot Noir. And garlic.
With whom would you most like to have dinner and a bottle or two of great wine?
J. Robert Oppenheimer, Verner Heisenberg and Neils Bohr.
My brother is a physicist, and I was never that interested in science. But nowadays I'm just fascinated with the whole evolution of science and by people like these guys. They'd be fun to have dinner with.
Most Recent Comment(s):