Alan Suzuki

By
.(JavaScript must be enabled to view this email address)
Friday - May 19, 2006
Share
|

Del.icio.us
|

Podcast
|
WineAndDineHawaii.com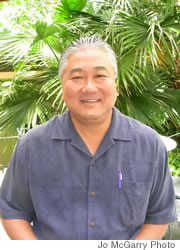 There's a saying, "give me a child before he's 7 and I'll show you the man," that is beautifully illustrated in a charming school photo that lurks in the back of Colin Nishida's office at Side Street.
Nishida and Alan Suzuki are with their classmates, at about age 6. Alan is wearing a neatly pressed collared shirt and long pants, and Colin is wearing shorts and slippers. Today, the two remain friends and are each commonly seen in the same type of clothing, more than 40 years later.
Here, Alan Suzuki talks a little about his favorite wines, restaurants, and what to drink this weekend.
Job title: District manager for Centerra Wine Company.
Where did you go to school?
I went to Bingham Track Elementary. We (Colin and I) were both supposed to go to Punahou - and never did (laughs). I moved to Hawaii Kai and went to Niu Valley and then Kaiser High School.
What started your interest in the food and beverage industry?
My family has a construction company and I decided that working 8-5 and looking forward to lunch was not my gig, so I went to bartending classes and to hotel operations school and started working at the Kahala Hilton.
What was your first job?
My first job, and actually one of the best ones at the hotel, was room service waiter. Then I moved to room service at night, then went to the bar, and then became sommelier.
What was it about the room service waiter job that you enjoyed?
Well, you got to meet a lot of different people, and in those days guests could order from the Maile (fine dining) menu in their room. That meant if someone ordered Dom Perignon and some caviar you only needed one order for a good night!
Who would you say influenced your career the most?
Leo Sato from the Hawaii Regent, and I would say my mom because she gave me the drive to work hard for everything.
Do you have a favorite restaurant?
Oh, there are really too many to mention. Of course I love to go to restaurants that are Centerra-friendly and carry most of our wines!
Do you cook at home?
I cook at home all the time. One of my specialties is spaghetti Bolognese with a great bottle of Chianti.
How about wine? What do you drink on special occasions?
Usually French red burgundy with a little bit of age, from a top producer.
What would we always find in your fridge?
Wasabi, shoyu, bottled water.
Who'd you most like to have dinner and a bottle of wine with?
Bob and Margaret Mondavi.
What's the best part of your job in the wine industry?
Getting to deal with a lot of different wines - and the competition!
Can you give us a nice wine recommendation for the weekend?
I'd recommend one of the fastest-selling, most-highly recommended white wines in the U.S. right now: Monkey Bay Sauvignon Blanc from New Zealand.
Most Recent Comment(s):