Alan Wong

By
.(JavaScript must be enabled to view this email address)
Friday - July 15, 2005
Share
|

Del.icio.us
|

Podcast
|
WineAndDineHawaii.com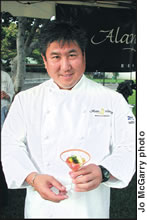 Alan Wong's Restaurant is, for many people, the food destination in Hawaii. This immensely likeable and modest chef is one of Hawaii's favorite sons, and his food reflects more than just the flavors of the islands. He tries to replicate the relationship between chef and farmer on the plate, so what you're eating is something more than just a combination of ingredients.
I like to think that it's a taste of Hawaii — in the purest sense.
Here he takes a few moments to answer our questions — in brief.
Age:
48
What was your first professional cooking job?
My first job was as a dishwasher. But in cooking terms I first worked as a cook's helper at the Veranda Restaurant at The Beachcomber Hotel.
What's your favorite dish?
Well, it depends on my mood, but anything really that tastes great — especially a piping hot bowl of soup.
Do you have a favorite dish at another restaurant?
The ginseng chicken soup stuffed with mochi rice at Sorabol.
What's always in your fridge?
Vegetarian food.
What's your favorite late-night snack?
Hot soup.
Whom would you most like to cook for?
I don't remember his name, but one of the Chinese emperors.
Which ingredient can you not live without?
This may sound strange — but not to those who know me — water.
Most Recent Comment(s):
Commenting is not available in this weblog entry.