Albert Tsuru

By
.(JavaScript must be enabled to view this email address)
Friday - January 27, 2006
Share
|

Del.icio.us
|

Podcast
|
WineAndDineHawaii.com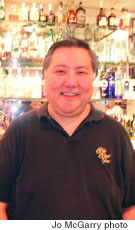 Albert Tsuru
If you're a foodie in Hawaii, Albert Tsuru is one of the most important people in the city. As manager of Side Street Inn, he's the man who can get you a table when it seems like every corner of the restaurant is full. Always courteous, humble and conscientious, Albert typifies people in the restaurant industry who quietly stay behind the scenes.
Side Street may have magnificent pork chops and the best yakisoba noodles in town - but it just wouldn't be the same without Albert.
Job Title: Manager, Side Street Inn.
Where did you go to school?
I graduated McKinley High School and then got my bachelor's at UH.
Where was your first job?
I started as a busboy at the old Holiday Inn Waikiki Beach Hotel.
Who's been the biggest influence in your life?
Both my mom and my (late) dad.
Side Street is everyone's favorite place - including most of Hawaii's best chefs. Where's your favorite place to go when you're not working?
I have a lot of places I enjoy. I like Tokkuri Tei and Chart House. For just kicking back, I like Aku Bone and Anyplace Lounge - where I try not to sing karaoke if I can help it.
What's your favorite dish on the menu at Side Street?
Oh, that's really too hard a question to answer. First, I don't eat here a lot, because I'm around the food all day. And it's hard to pick a favorite because everything is good. Probably right now I'd have to say that the crab and artichoke dip is a big favorite of mine.
What do you eat when you're at home?
Natto. I love it. I eat it for lunch or dinner over hot rice. And saimin, of course. Just anything that's easy.
We never really see you drink, as you're always working - what's your favorite nightcap?
Miller Lite is my drink of choice. And sometimes I'll drink Black Velvet.
Who'd you most like to see come into Side Street for dinner?
Well, that's kind of hard, because we've been really fortunate and had so many well-known people come here to eat. I've met so many famous people it's hard to think of anyone I'd still like to meet. I think if I could, I'd most like to see my dad come in. He was a bartender and waiter at Oahu Country Club and I think he would really have enjoyed Side Street.
What's the best part of your job?
Getting to know people is a great part of the job. Seeing people like Roy (Yamaguchi) and Alan (Wong) come in and kick back, you really get to see them in a different light. And just getting to know who people really are. And then there's the employees, the people I work with ... Colin, of course ... it's all good!
Hardest part of the job?
Accommodating everyone. Getting people their seats when they want them, keeping everyone happy ... that can be tough.
Do you have any advice for customers?
Basically you gotta have patience. Once I know you're waiting for a table, please, just wait. I'll get it for you.
Most Recent Comment(s):
For all comments click here.