Alex Kirley

By
.(JavaScript must be enabled to view this email address)
Friday - April 28, 2006
Share
|

Del.icio.us
|

Podcast
|
WineAndDineHawaii.com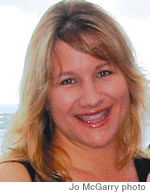 Alex Kirley
Alex Kirley is the regional director of sales and marketing for Desert Island Restaurants, the group that includes Ruth's Chris Steakhouse and Romano's Macaroni Grill.
Age: 36
Where did you go to school?
Chaminade University for a BA in business and then an MBA in international business in 1997.
What started your interest in the hospitality industry?
I had always wanted to own my own business, especially a restaurant, and of course staying in Hawaii after I graduated certainly influenced my direction. I also know how important restaurants are to our economy and knew there would be many opportunities in the restaurant business.
Who has influenced you most in your career? And why?
At this point in my career, I think that Paul Ah Cook has influenced my career the most. It's not often that you find someone like Paul that has both great leadership and organizational skills. He's an amazing person to work with.
So there still aren't that many women in high paid positions in the restaurant industry - is it really much tougher for a woman than a man?
I do see a lot of women in the restaurant management-level positions, however, I think that there are fewer women as general managers. I think I do see a few more women in the sales and marketing aspect of the business, though, than men.
If you weren't in this industry, what you would be?
International business, perhaps law, and I also love real estate. I love sales and marketing very much though, and I could actually apply my skills to any of these other industries as well.
Favorite dish at Ruth's Chris?
This is a hard question because everything on our menu is outstanding, and Chef Nawai Kekoolani does such an amazing job. But if I have to choose just one, I'll have to give you one for each category on our menu: favorite appetizer is the Barbecue Shrimp, favorite entrée is a Ribeye, favorite side is Garlic Mashed Potatoes and favorite dessert is Banana Cream Pie.
At Romano's Macaroni Grill?
It's a toss up between the Grilled Pork Chops with Wild Mushroom Risotto and the Grilled Salmon with Spinach Orzo Pasta - and my favorite dessert is the Smothered Chocolate Cake.
Where do you go to eat when you have free time?
One of my all-time favorites is Assaggio in Kailua. I do also like Roy's, Mariposa, Pineapple Room,Yanagi Sushi, Chao Phya Thai and Compadres.
Favorite dish at one or two of those places?
At Assaggios, I enjoy the Caesar salad, Hot Antipasti and Fish Picatta (all with extra garlic), and I like the Thai Cobb Salad at Pineapple Room.
What's always in your fridge?
Chardonnay, garlic, Romaine lettuce a variety of sauces and nowadays, baby bottles!
Favorite late night snack?
Popcorn.
How do you describe both restaurants to people who have never been?
Ruth's Chris Steak House has service, food and warm hospitality that make it the best steak house in Hawaii. The menu has the finest wines, and the USDA Prime steaks are brought out with our signature "sizzle" right from our 1,800-degree broilers.
Romano's Macaroni Grill is such a pretty restaurant and perfect for everyone. The menu is Tuscan-inspired Italian food with all the true classic Italian dishes everyone loves.
Whom would you most like to host at dinner in your restaurant — and why?
I think there is nothing more fun than treating family and friends to dinner especially if it's for a special occasion in one of our private dining rooms.
Best part of your job?
I absolutely love my job. I think I'm one of the luckiest people. It's great to be able to travel to Maui to visit our two other Ruth's Chris locations, and soon we'll open our Big Island location at the Shops at Mauna Lani.
Equally as important to me, planning parties and special events, like the one we just did for the Hawaii Foodbank. I like working on events that our restaurants can participate in and that impact the community, and I sit on many boards, such as the Hawaii Hospitality Sales and Marketing Association where there's great support for the industry. Everything that relates back to the guest having a wonderful time is all good!
Most Recent Comment(s):