Amir Ibrahim

By
.(JavaScript must be enabled to view this email address)
Friday - April 15, 2009
Share
|

Del.icio.us
|

Podcast
|
WineAndDineHawaii.com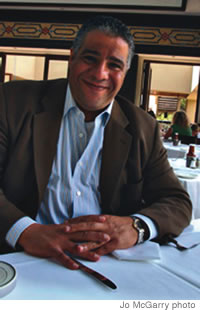 Amir Ibrahim
Title:General manager, Wolfgang's Steak House, Waikiki
Where were you born and raised? I was born and raised in Cairo, Egypt, and I spent half of my life in New York City.
How did you get into the food and beverage industry? I graduated from Cairo University of Hotel and Tourist Management. I've been in the industry since college. When I came to the U.S., I got a job in New Jersey at a restaurant, Umberto's on the Green, where I worked as a bus boy. After that I climbed the ladder, working at various restaurants.
The New York steak house position is kind of a status symbol for waiters, wouldn't you say? You have to work hard at it, that's for sure. I was fortunate to start working in a steak house in 1991. It's a profession, really. Not just a job. You have to learn everything, from the beef, the wine, the service ...
There's a real standard of excellence one associates with the food, the service, the whole New York steak house experience. And there are so many in New York!Yes. In my opinion, New Yorkers like all kind of food, but when it comes to steak, they want only the best. In America we certainly have the best steak - and we give them the best.
Anyone you'd regard as a mentor? Well, I was always attracted to Wolfgang (Zweiner) - he's a great guy. He was head waiter at Peter Luger's, where he was a mentor for a lot of people. The way that he greets people, the way he welcomes guests and always has a smile for everyone - he's just that kind of guy. You see him, you like him.
How's Hawaii treating you? I never imagined I would one day live in Hawaii. My family - my wife and our 10-month-old son - is having such a great experience here.
Do you cook at home? Yes. When you work around this industry, if you're just a little bit smart, you can learn a lot. But I definitely don't cook steak. For some reason, the steaks in the restaurant taste a lot better than they do off the grill.
What's always in your fridge? There's always cheese.
Who'd you most like to see come to Wolfgang's? Barack Obama. I would love to see him come into the restaurant.
Most Recent Comment(s):