Andy Baker

By
.(JavaScript must be enabled to view this email address)
Friday - January 19, 2011
Share
|

Del.icio.us
|

Podcast
|
WineAndDineHawaii.com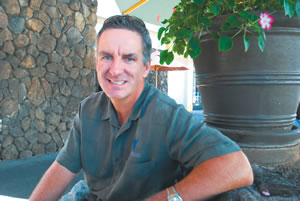 Title: Founder and vice president of sales, Hawaii Nui Brewing, Hilo
Where were you born and raised? Colchester, England. My family name is Crawford. William Crawford founded the Beamish Brewery in Cork, Ireland, in 1792, so I guess I am continuing the family tradition. I've lived in Hawaii since 1979, so this has long been home for me.
What started your passion for beer? Sampling cask-conditioned ales for the first time with my parents and grandfather in a pub in Castle Hedingham, England, in 1983. I eventually stumbled upon Michael Jackson, the Beer Hunter, late one night on TV, and the passion grew from there. Once I started selling craft beers back in the late '80s, I knew there was no turning back.
What's happening currently at your Hawaii-based breweries? We're making a major capital investment to improve our bottling capabilities. By February we should have completed installation of a new bottling line that will allow us to bottle our specialty beers, offer many of our six-pack products in 22-ounce bottles and enhance the quality of the final packaged product. This will certainly cement our position as Hawaii's only bottler of beers.
Is it possible to have a favorite beer, or is it like wine - there are so many that are wonderful? Beer, like wine, is all about personal taste. I like different styles of beer with different foods and/or settings. I love a rich Porter with a bowl of Portuguese bean soup and sourdough bread on a cold, rainy night.
What's a good beer for Pacific Rim food - a typical "Hawaii" beer, if you like? I think our Hawaii Nui Kauai Golden Ale is the perfect beer for Pacific Rim cuisine. It's light-bodied with outstanding citrus fruit esters from the Amarillo hops that we use - very tropical!
Do you cook at home? Yes. Quick and simple pasta and chicken dishes are the norm. But I've learned that being creative in the kitchen doesn't have to be intimidating and time-consuming.
What's always in your fridge? The normal staples (eggs, milk, bread, etc.) but little or no beer. I keep samples from multiple bottling runs along with an assortment of beer styles from other brewers at a top-secret location!
With whom would you most like to sit down and have a beer and a conversation? My Uncle Sturrock Ross from Dundee, Scotland. The man could carry an intelligent conversation about anything - politics, history, sports, you name it!
Anything about you that might surprise people? I love to hike into the mountains of Oahu and Kauai and go fly fishing.
We're only a few weeks away from Valentine's Day, when people typically celebrate with champagne. Is there a romantic beer? Absolutely. Try the Cantillon Rose De Gambrinus. However, fair warning: The label is a little racy! It's available at Whole Foods in Kahala.
Most Recent Comment(s):