Andy Degamo

By
.(JavaScript must be enabled to view this email address)
Friday - March 09, 2011
Share
|

Del.icio.us
|

Podcast
|
WineAndDineHawaii.com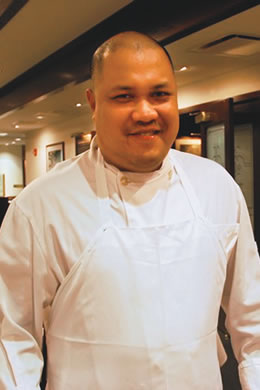 Title: Chef, Morton's The Steakhouse
Where were you born and raised? I was born in the Philippines and moved to live on Lanai when I was 10 years old.
What started your interest in the culinary world? On Lanai we only have two resorts, you know, so I started working at Manele Bay as a busboy. Even though I was in the front of the house, I would walk through the back of the restaurant into the kitchen all the time, and I always thought it would be cool to work there. I preferred it right from the start.
You've been with Morton's for nine years now. What do you recommend people try from the menu? We use USDA Prime steak, so the quality of all the meat is really excellent. So any of our steaks are going to be good. Personally, I like the rib eye and the New York strip - served with a side of rice, of course.
When people ask for their USDA prime very well done, how do you react?
With our steak, no matter how you cook it, I think it's still going to taste OK. But sometimes I do think people might be ruining their steak a little when they want it cooked so much. Up to them, though. However people want to eat it is fine with me.
Do you cook at home? Not too much. I work here six nights a week, so it doesn't leave a lot of time for cooking.
When you are home, what's a favorite dish? I like to make Filipino food - usually pinakbet.
What's always in your fridge? Right now it's kind of empty because I'm working all the time! There's water, maybe some juice ...
Many celebrities come to Morton's for dinner. Most recently, Johnny Depp and George Clooney were both there. Who would you most like to see in the dining room? Oh, of course it would be my countryman Manny Pacquiao. I would love to cook for him.
Most Recent Comment(s):