Andy Le

By
.(JavaScript must be enabled to view this email address)
Friday - August 25, 2010
Share
|

Del.icio.us
|

Podcast
|
WineAndDineHawaii.com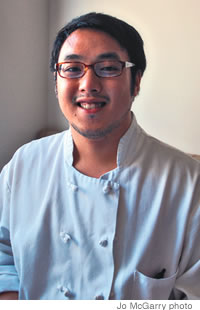 Occupation: Sous chef, Chef Mavro
Where were you born and raised? In Hawaii. I went to Saint Louis High School and graduated from the Culinary Institute of America.
Who influenced your cooking style? Pretty much my mom. She is an awesome cook. There's something that connects me to my Vietnamese culture through cooking. That's what made me want to be a cook. It took a lot of convincing because my mom didn't want me to follow this career path.
Your earliest memories of food? Just of my mom cooking Vietnamese food for our family. She's the youngest of 13 children and she's a completely self-taught cook.
Has she been to Chef Mavro? Yes, she has been. I think she liked it!
What was your first restaurant job? This is it. I came from the CIA to Chef Mavro. Who would you most like to see come to the restaurant for dinner? Just friends and family. I think that's mostly what food is all about.
Do you cook at home? When I can.
What's always in your fridge? Parmesan cheese, fish sauce and lots of fresh herbs. Where do you like to eat? Simple places. I like a good pizza. V Lounge has really good pizza. And I like Sweet Home Café across from Stadium Park.
What inspires your cooking? My heritage is becoming the inspiration, I think. I'm realizing that I feel the connection with Vietnamese food, and I want to explore that and make elegant food.
Anything about you that might surprise people? That I'm really good at relaxing. I have two personalities: one for work and one at home.
What's the biggest challenge in the kitchen? I think the time constraints of a busy restaurant. It's just so much of a challenge to be perfectly consistent every single day.
Most Recent Comment(s):