Annie Yeung

By
.(JavaScript must be enabled to view this email address)
Friday - June 20, 2008
Share
|

Del.icio.us
|

Podcast
|
WineAndDineHawaii.com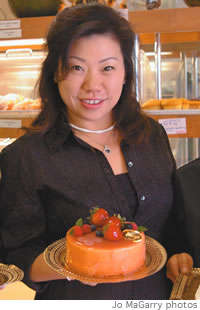 Annie Yeung and her sister Alice opened Panya Bakery 11 years ago this month. Together the sisters have earned a reputation as excellent bakers and employers who foster great relationships within their company. Here Annie talks about the precision of baking, the influence of her father and why she'd like Oprah Winfrey to stop by Panya for lunch.
Where were you born and raised?
I was born in Hong Kong and I came here in the '80s to go to U.H. After I graduated, I worked for large retail organizations here.
Did you always want to have a restaurant and bakery?
No, not really. My sister Alice also came to Hawaii to go to school and after she graduated she was looking for a business opportunity. The former Alfonso bakery was for sale and we bought it.
So did you know how to bake?
(Laughs) Well, we've always liked baking and eating baked goods. In Japan we'd buy pastries by the dozen and take them to our hotel room and try them all!
How did you learn the delicate technique that you and your bakers impart at Panya?
Our father knew a master baker in Japan and he agreed to teach us. We also knew that we wanted a bakery where people could serve themselves and we thought the lighter style of Japanese pastries would do well in Hawaii.
Well you were right about that! What's the most difficult thing in baking to master?
It's such a precise skill. Everything has to be perfect and you just can't take anything for granted. The flour has to be right, the temperature ... everything. Another master baker taught us to respect the dough. To love it (laughs) and I think that's important too - they're all small things, but very important in creating good food.
Where do you like to eat out?
Basically we live in Panya! My son loves Chin's Chinese food at Kahala - we love the shrimp and the smoked duck there.
Who's been the biggest influence in your life?
Our dad. He is constantly behind us both supporting and pushing us. You have to do it (succeed) and then prove to him that we're still doing it! He' s a traditional, Japanese-influenced Chinese man - if he doesn't scold us, its already good!
Would you like to bake for anyone?
Oprah, of course.
What's the biggest lesson you've learned in the 11 years of Panya ?
Be persistent and don't give up no matter what happens or how badly people treat you. We're women in business, minorities in business, sometimes its been hard. We treat people very nicely. We run this business and it supports 55 employees who all support their own families. We consider them and think of them all the time.
Most Recent Comment(s):