Anthony Romano

By
.(JavaScript must be enabled to view this email address)
Friday - August 01, 2008
Share
|

Del.icio.us
|

Podcast
|
WineAndDineHawaii.com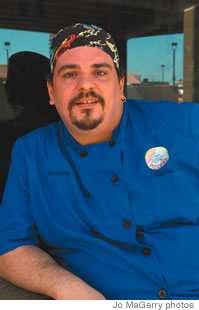 Anthony Romano is the co-owner of Antonio's New York Pizzeria in Kahala at 4210 Waialae Ave., across from Kahala Mall. 737-3333.
Where were you born and raised?
New Haven, Conn.
What sparked your interest in the food industry?
I grew up in an Italian neighborhood where there was the pizza place, the bakery, the sandwich shop and huge fresh markets. Food was a big deal from as early as I can remember.
I always imagine Italian families to be cooking and eating together ... lots of noise, lots of great food.
Yeah. We had a big family and a huge garden, and we had a two-family house. Our grandparents lived upstairs, and everybody cooked at some point. Mostly my mother cooked and then, as we got older, my father started cooking. And every weekend we'd eat at Grandma's house.
Do you have a favorite dish from those days?
Oh, my Aunt Alice's eggplant Parmesan. It was incredible.
What was so great about it?
Really fine, thin eggplant slices and a perfect sauce. Whenever we had any kind of family function, it was always there.
Why did you move to Hawaii?
The restaurant brought me here. I always had a love for food, and when the place went up for sale, Joe (Tramontano), my cousin, called me in Connecticut and I came out, checked it out and moved to Hawaii.
Can anyone make great pizza?
Well, anyone can be taught to make pizza, but the rest really is all about love. It's a passion for the food, for the ingredients, making sure that everything is really fresh.
How do you describe Antonio's to someone who's never been?
East Coast-style pizza restaurant that does pasta, calzones and sandwiches.
What's your favorite pie?
I'm a pizza purist. Tomato sauce, garlic, red pepper, Parmesan. That's it.
Your wife makes your incredibly good New York cheesecake. Is it her own recipe?
It's my mom's recipe, and hers is so fabulous that even my mom would attest that it's better than the original.
What's a good pizza to order your first time here?
Well, it depends on what you like, of course, but our signature pizza is the grilled chicken Caesar. No one else does that.
Who would you like to sit here and have lunch with?
Just one person - my mom.
Most Recent Comment(s):