Ben Aiana

By
.(JavaScript must be enabled to view this email address)
Friday - September 12, 2008
Share
|

Del.icio.us
|

Podcast
|
WineAndDineHawaii.com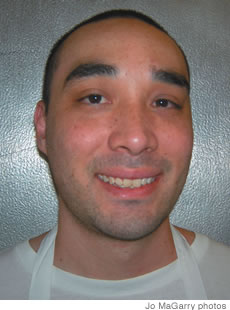 Ben Aiana is the new executive chef at Kaka'ako Kitchen at Ward Centre. Kaka'ako Kitchen is synonymous with gourmet plate lunch food in Honolulu. Serving a menu of Island favorites that include calamari salad, Chinese five spice shoyu chicken, mahimahi plate and beef stew. Chef-owner Russell Siu and his team know local tastes and execute familar dishes consistently.
Where did you go to school?
Castle High School.
First professional position?
All Star Cafe.
What got you interested in the food and beverage industry?
Well, my grandma and my mom were always cooking at home, and my grandma was a cook at the Castle cafeteria, so that definitely influenced my career choice.
Did they have the biggest influence on you?
My grandma was always cooking and baking, and that had a powerful impact on my life and on what I wanted to do.
There are so many great dishes at Kaka'ako. What's your personal favorite?
Our hot Reuben sandwich made with fresh pastrami. There aren't too many places you can find a great, hot Reuben.
Favorite dish at other Hawaii restaurants?
I like the simple foods. I like the meat jun at Yakiniku Seoul, for example.
What's always in your fridge?
Leftovers.
Favorite late-night snack?
Potato chips.
With whom would you most like to have dinner and why?
Definitely my father. He passed away when I was 13 and just entering high school. I'd like him to see how far I've come.
How do you describe the food at Kaka'ako Kitchen to someone who's not been?
Island flair with a fine-dining twist.
Any new dishes on the menu that we should try?
Everything at Kaka'ako is good.
Kaka'ako Kitchen Ward Centre 596-7491
Most Recent Comment(s):