Bill Tobin

By
.(JavaScript must be enabled to view this email address)
Friday - February 03, 2006
Share
|

Del.icio.us
|

Podcast
|
WineAndDineHawaii.com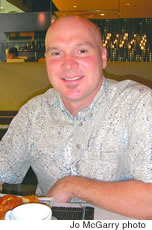 Bill Tobin
Bill Tobin is the managing partner of Tiki's Grill and Bar in Waikiki. He is also the chairman of the Hawaii Restaurant Association, and is bringing new life to the organization through a variety of means, including a newly updated website. Here he talks about his first job as a bouncer in a redneck bar, the things his mother taught him and what his 3-year-old son likes to eat at Roy's.
Who would you say has had the most influence on your life thus far?
I'm sure that would be my mother. Bless her heart. She passed away a little more than a year ago. She was always very honest and very giving. Of course, every man I know loves his mother, but I really felt that she instilled values in me that have allowed me to interact with people of all walks of life and keep my own integrity. She taught me to remember who I am - and I stay close to that.

How did you start in the food and beverage industry?
First industry job was a bouncer in a redneck rock 'n' roll bar in Columbus, Ga., called D Fords. I was in the military and went there often enough for the owner to offer me a job. One thing led to another. I started washing dishes, bartending and then helping out everywhere. When I left the military, it was bartending that helped put me through college.
You guys have a new restaurant opening this year. Can you tell us a little about it?
Holokai Grill on Lewers will open on Nov. 1. The basic business model is Tiki's, but the concept will be based around the Polynesian voyaging canoes.
Can you tell us some of your favorite Hawaii restaurants?
I'm a huge fan of supporting all our local restaurants, but I consistently find myself at Roy's. I really like going downstairs at Roy's in Hawaii Kai. You don't need a reservation, it's kid-friendly and you can be in and out fairly quickly.
Alan Wong's is my wife's favorite, along with Café Laufer in Kaimuki. For special occasions, we like to go to Hoku's or Chef Mavro. Another place I love is Tokkuri Tei.
Favorite dish at a Hawaii restaurant?
Misoyaki butterfish at Roy's - I order it for my 3-year-old son, but I end up eating it all.
Favorite late-night snack?
I'm a sucker for chocolate. I'll eat anything chocolate. If I'm trying to relax and unwind after work I'll have a scoop of chocolate ice cream.
What's always in your fridge?
Fresh whole milk. Much as everyone talks about skim milk, we always have whole milk.
Describe Tiki's to someone who's never been there before.
We are a retro-1950s-style-with-a-modern-twist tiki bar. The theme is Polynesian, with tikis, bamboo, wood. It's a casual restaurant/bar, but nice enough for business attire.
Most Recent Comment(s):