Bob Longhi

By
.(JavaScript must be enabled to view this email address)
Friday - November 04, 2005
Share
|

Del.icio.us
|

Podcast
|
WineAndDineHawaii.com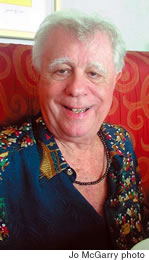 Bob Longhi
Bob Longhi is the self-confessed most opinionated restaurateur in Hawaii - probably in the world. He is flamboyant, outrageous, charming, witty and one of my favorite dining companions. There are three Longhi's Restaurants in Hawaii - Wailea, Lahaina and Ala Moana - and two more are projected to open next year. Longhi's serves the kind of food Bob Longhi likes to eat - fresh, plentiful and great-tasting.
Age: 72
What's your restaurant philosophy?
At Longhi's I want to create an atmosphere of negative ions. That means we have no air conditioners, lots of fans, high ceilings, open windows, ocean views, lots of flowers and not a lot of electrical interference. When people walk into Longhi's they feel "up." I want them to feel energized by the atmosphere. And I need the staff to have the right attitude. I tell them that working at Longhi's is an existential experience. They leave their problems at home and, for the time they're here, they concentrate on taking care of the customers.
Favorite dish at Longhi's?
Oh, I can't answer that. The one I'm eating now (oysters) is my favorite. Every dish on the menu is something I like to eat. I don't put anything on the menu I wouldn't eat myself or that I don't like. If I had to choose a last meal, then the first part of it would be fresh tomato pasta with a little garlic, anchovies, basil - that would be my favorite thing. But I love all of our pasta, clams, everything!
Have any favorite Honolulu restaurants?
I like the dim sum at Legends, and I like that Chinese restaurant with the Japanese name ... Kirin. I generally like the Chinese food in Honolulu. I like to go to Michel's and have a real Caesar salad once in a while.
Who'd you most like to have at your table for dinner?
Certainly not George Bush.
Bill Clinton would be up there, along with Jackie Stewart and Kareem Abdul Jabbar, who are both good friends.
What's in your refrigerator at home?
Nothing. I don't eat at home anymore. I have two Sub Zero refrigerators and they're empty. I do have some wine (my favorite German Spaetlese) in an upstairs refrigerator. Women love it. All the women I have ever taken out all go crazy about it.
Do you have a memorable dining experience?
Hundreds. There are just too many to count. One was in Rio de Janeiro where this Italian guy had these huge grills in the restaurant and grilled fish and steaks. I went there for about five days in a row. In Venezuela too, there was a guy named Hector who served us an excellent meal.
And I had an amazing meal at a restaurant to the south of Lyon, where the sommelier was about 90 years old. I don't remember what I ate, but it was one of the greatest meals.
Do you have a favorite restaurant - apart from Longhi's?
Trattoria alla Madonna in Venice. It's really hard to get into, so you have to tell them that the concierge at The Gritti Palace Hotel (where incidentally they have a Bar Longhi) sent you and they let you in. My favorite dish there is eel. Incredible.
Most Recent Comment(s):