Bob Morse

By
.(JavaScript must be enabled to view this email address)
Friday - August 17, 2011
Share
|

Del.icio.us
|

Podcast
|
WineAndDineHawaii.com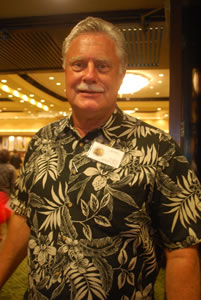 Occupation: VP, General Spirit Manager, Southern Wines and Spirits of Hawaii
Where were you born and raised? New Jersey. I came here in 1975 with my parents and was struck by the beauty. I was determined to come back to live here and make my life here.
How did you first start in the beverage industry? I was driving beer trucks in New Jersey when I was going to college, and then when I moved to Hawaii I knew I wanted to be in the food and beverage industry. My first job was at Hale Koa Hotel in the beverage department, and then I spent about three years running a drive-thru liquor store in Nanakuli.
You've been around the restaurant industry for a long time. Is there anything you miss about the way things were? (laughs) Oh, thanks, Jo. Well, there are some restaurants that had a particular kind of ambience that I think perhaps is gone now Matteo's maybe, or Nick's. They were always fun to go to, and there was something about the romance or the ambience that I'm not sure it's as easy to re-create today.
What's changed most about the industry in the past 30 years? Definitely the flip-flop from spirits to wines. Sales used to be 75 percent spirits and 25 percent wines. Now it's completely reversed. And the introduction of the premium categories, the explosion of single malts, premium tequilas ... there's just so much going on nowadays. People are better educated about what they eat and drink.
Do you cook at home? Yes, we still have a hectic family schedule, so the first guy home throws on the rice pot and I usually grill. When we go out, we try to support all the local restaurants we can.
What's always in your fridge? Merlot and steak.
With whom would you most like to have dinner? Oh, my family. As our kids have grown, we've enjoyed them more and more. And now that our kids are all of legal drinking age, when we get together and have dinner with some wine there's nothing better.
Anything about you that might surprise people? I should be much taller for my weight.
Most Recent Comment(s):