Bob Snyder

By
.(JavaScript must be enabled to view this email address)
Friday - March 02, 2007
Share
|

Del.icio.us
|

Podcast
|
WineAndDineHawaii.com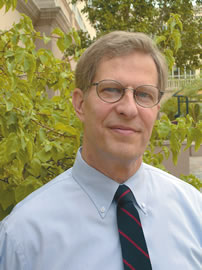 Bob Snyder
Bob Snyder is the CEO of Desert Island Restaurants. His franchises include Ruth's Chris Steak House. With a new Ruth's Chris about to open this week in Waikiki, he chats about his favorite dish (no, it's not steak!), his first job and why he'd like to host Groucho Marx and Thomas Jefferson for dinner.
Title:
Chief operating officer and president of Desert Island Restaurants, Hawaii franchise holder for Ruth's Chris Steak House and Romano's Macaroni Grill
Where were you born and raised?
I hail from New Jersey and I was raised in Cherry Hill, outside Philadelphia.
What got you interested in the restaurant business?
My first job out of college was working for Oscar Mayer. My kids always tease me that I was in the Wienermobile, but that's not true. I was assigned to the restaurant side of the business. I loved it. I really got to know about restaurants, and there were very few I wasn't in!
How long have you been with Ruth's Chris?
I joined the company four years ago, moving to Phoenix where we have our headquarters.
Do you have any mentors?
I've been influenced not so much by an individual, but by the management process that gives tools for efficiency and profitability. I look to people who share this philosophy to learn more about restaurants.
What do you order when you eat at Ruth's Chris?
I love the fresh fish, and opakapaka has become my favorite now that Andrea and I are living in Honolulu. I love variety, but nothing is better to me than a nice, fresh, well-cooked piece of fish.
You and your wife just moved here. Where do you like to eat in Honolulu?
For Italian food, I would have to say Romano's Macaroni Grill, of course! For Mexican, we go to Compadres. I could live on rice and beans. I've been to Maharani on King Street a few times already for Indian food. I like ethnic cuisine and I like experimenting - I'm in the business!
Best piece of business advice you've ever heard?
I tell this to all our employees at Ruth's Chris and at Romano's Macaroni Grill: Do what you say you're going to do! In the business world, you will benefit greatly by developing a reputation for credibility and integrity.
In the unlikely event that someone reading this has not been to Ruth's Chris, how would you describe the restaurant?
Wow - there's really someone who hasn't been to a Ruth's Chris somewhere? Seriously, no matter where you go, you'll have a highly relaxing, enjoyable evening with great cuisine.
With whom would you most like to have dinner?
I think leading my list would be Thomas Jefferson and Groucho Marx - I like my history with a little humor. Then maybe Sir Isaac Newton and even Ghengis Khan.
Most Recent Comment(s):