Brendan Mahoney

By
.(JavaScript must be enabled to view this email address)
Friday - April 16, 2005
Share
|

Del.icio.us
|

Podcast
|
WineAndDineHawaii.com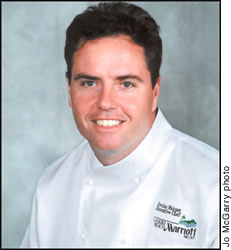 Name: Brendan Mahoney
Title: Executive chef at Waikiki Beach Marriott Resort and Spa.
Age: 41
First professional cooking job? In Kapalua at Pineapple Hill Restaurant. It was in the early '80s when Kapalua was a drive away from the other resorts. The place is no longer there, but it was a restored pineapple plantation manager's home. We worked with a full cast of characters in the kitchen.
Who has influenced you most in your cooking career? I would say one of the primary guys was Lou Trope, who was one of my chefs on Maui. He is the corporate concept chef for Marriott now.
Favorite dish at your own restaurant? Our restaurants at the property are casual and focused on the larger population of Waikiki, but one of the better sellers for breakfast is a vegetable frittata with an herb boursin cheese. It comes off as a light dish, but the sauce really fills in flavor.
Favorite dish at another Hawaii restaurant? The green papaya salad at Phuket Thai is really good. The lamb biriyani at Maharani on King Street. Also down in Kahala, a competitive hotel, but they have a selection of Singapore Classics that bring back memories of working in Singapore. Also on Maui in Paia, there is a little crepe shop. Simple Crepes on Baldwin Avenue. Lots of personality and creativity, it makes eating fun. I could go on.
What's always in your fridge? Fixings for quesadillas — I grew up in Southern California. Usually a good variety of vegetables — I try to keep the vitamins going, plus with a variety of vegetables you can make a lot of different foods. Tofu too. Simple, light food.
Favorite late night snack? Tabouleh(bulgur wheat salad) with some fish, and maybe a little vinaigrette.
Who would you most like to cook dinner for? My mom. She isn't around now, but she really was a huge influence in being a positive person and making things happen.
What ingredient can you not live without? I use soy sauce a lot.
How would you describe your cooking? My cooking is generally on the light side. It is a reflection of memories from people I've cooked with and travel, so in our banquet menus we do all angles of cooking from Indian, Japan, Singapore, Italian, California, Mexico … I try not to be stagnant.
Most Recent Comment(s):
Commenting is not available in this weblog entry.