Brett Villarmia

By
.(JavaScript must be enabled to view this email address)
Friday - January 12, 2011
Share
|

Del.icio.us
|

Podcast
|
WineAndDineHawaii.com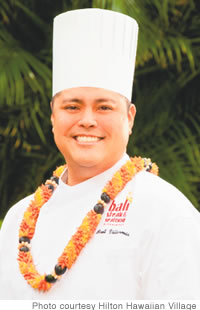 Age: 39
Title: Chef de Cuisine, Bali Steak and Seafood Where were you born and raised? I was born in Wichita, Kan., and raised in Hawaii.
Earliest food memory? Eating Japanese chocolate lollipops shaped like cartoon characters.
First industry position? Part-time cook at Cinnabon in Pearlridge. I quit because I wanted to add more to the recipes (more vanilla in the frosting, more cinnamon in the brown sugar). I wasn't really a recipe follower.
What started your interest in cooking? I was the guy always putting together the backyard barbecue. Mine became so popular that I began to realize how much I loved to cook for people.
Where do you like to eat when you're not working? I enjoy eating everywhere, but Yakiniku Million Restaurant is one of the places where I have to eat at least once a week.
Do you cook at home? I do. I enjoy local comfort-style food, so lots of shoyu chicken, beef stew, chili with mac salad and kim chee.
What's your best at-home dish? Roasted baby beet salad tossed with pickled mustard seeds and served with liquid goat cheese. So simple, but tasty.
What's always in your fridge? Chili sauce, eggs, butter, some type of artisnal cheese and Kewpie mayonnaise.
Favorite kitchen gadget? Micro plane zester.
With whom would you most like to have dinner at Bali? My grandmother. She's the person who inspired me and encouraged me to become a chef.
Anything about you that might surprise people? I eat a peanut butter and guava jelly sandwich every day for breakfast.
Most Recent Comment(s):