Brian Blair

By
.(JavaScript must be enabled to view this email address)
Friday - August 05, 2005
Share
|

Del.icio.us
|

Podcast
|
WineAndDineHawaii.com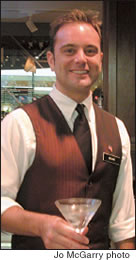 Brian Blair is the bartender at Ruth's Chris Steakhouse in Honolulu. An avid sports fan and recreational golfer, he has much to talk about with the regular clientele who show up at his busy bar.
Age:
34
First Industry Job:
Cafe Rio, a small seafood restaurant on the beach in Rio Del Mar, Calif.
Who has influenced you most in your career so far?
Al Hosoi and Paul Ah Cook. I am so fortunate to have been able to work with and learn from both of them.
Favorite dish at Ruth's Chris?
The veal chop, it's the best veal you will ever have! A close second is the cowboy ribeye.
Favorite dish at another Hawaii restaurant?
Anything at Aaron's or 12th Ave. Grill. They both do an excellent job!
Favorite wine of the moment?
My favorite wine? Hmmm … still thinking … There are just too many choices with so many great wines and winemakers out there. I will say it is such a privilege to be in this industry and explore so many excellent wines from around the world.
Favorite Tipple?
Stoli Elite rocks with a twist!
What makes a good professional bartender?
I believe it takes focus, attention to detail, knowledge of product and probably most importantly the ability to read your guests and know what they want, almost before they do. Of course a little personality doesn't hurt either!
Any pet peeves about dealing with the public?
No, of course not!
Best thing about your job?
The true friendships I have made with co-workers and guests.
Who would you most like to see at your bar for the evening?
Hot girls and big spenders! Just kidding! Our regulars are entertainment enough.
Best line heard from behind the bar?
Well that's kind of a hard one because some words can't be printed in the paper, so I'll give you a quote instead, "Zeal without knowledge is like a runaway horse."
Describe your restaurant/bar to someone who hasn't been there before.
I truly believe we are an excellent restaurant, not just the best steakhouse in town. Our seafood, salads and sides are also incredible. The Ruth's Chris Honolulu bar is really a unique dynamic, in that we have some of the most powerful high-profile people in town in what is most similar to a friendly neighborhood bar — with great food.
How do you relax when you're not behind the bar?
By spending time with my girlfriend Amy. Golfing, exercising, having dinner with friends and, of course, there's nothing like Sundays on the couch watching football!
Most Recent Comment(s):