Brooks Takenaka

By
.(JavaScript must be enabled to view this email address)
Friday - August 22, 2008
Share
|

Del.icio.us
|

Podcast
|
WineAndDineHawaii.com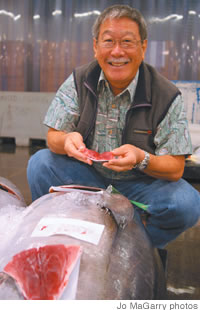 The United Fishing Agency Auction is held weekday mornings at 5:30 at Pier 38 in Honolulu. Visitors are welcome.
Job Title:
Assistant general manager, United Fishing Agency
Where were you born and where did you go to school?
I was born on Oahu and I am a son of Iolani! Went there from kindergarten and then graduated from University of Hawaii.
What do you think sparked your interest in the fishing industry?
I loved animals as a child. I would just look through books all the time trying to learn everything I could about all kinds of animals. And I've always had an interest in fish. My grandfather was a commercial fisherman, and it's something I've always been around and interested in.
Did you think you would end up so involved with education and with working with chefs?
My parents and grandparents didn't want me to become a fisherman, so I became a marine biologist. I've always loved it. Working with culinary students, with children, with college students and now with chefs, it's given me a chance to develop my passion for education and research. When I was given the chance to come back into the private sector and work here, I welcomed the opportunity. It's given me an appreciation for how much education is really necessary in this field.
Where do you like to eat fish?
My wife, Cynthia, is a wonderful cook - so we mostly eat the freshest fish at home. Occasionally we go to special restaurants, but we mostly eat at home.
What's always in your fridge?
Condiments and herbs for fish. We do so many different kinds of preparations that Cynthia has stocked up on lots of herbs and spices, so we can play around with different dishes and different ethnic preparations.
A favorite fish dish?
Swordfish steak with pesto sauce is wonderful.
Are we eating enough fish?
No. People can easily - and should - eat more fish. If you don't, you're really not providing yourself with an opportunity for healthy eating. When you think about it, wild fish is just about the only type of food that has no chemical additives.
How often do you eat fish?
Pretty much every day. Sometimes three times a day. My doctors tell me I'm super-healthy.
With whom would you most like to have dinner?
I always enjoy getting together with people in the industry, like Alan (Wong) D.K. (Kodama), Hiroshi (Fukui) and Chuck (Furuya), to name but a few. Part of the excitement is their different approach to food and to such a wonderful product. And I love listening to what they have to say about food and recipes and wine.
Most Recent Comment(s):